IJ25 Postage Meter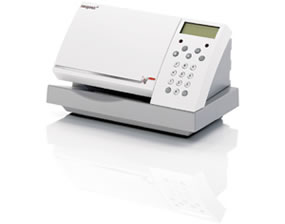 More Neopost Postage Meters Information
Neopost's new IJ25 is a powerhouse postage meter offering advanced features you need today, with the technology required by the USPS for tomorrow, and well into the future. Using Hewlett-Packard inkjet technology, the IJ25 prints a digital IBIP indicia, which makes your mail look professional. IJ25 even includes eight of our most popular ad slogans allowing you to personalize your mail at the touch of a button.
The IJ25's intelligent design ensures easy operation, maximizes convenience and controls costs.
All Neopost mailing machines and postage meters offer No Deposit Postage-On Call®, an easy-to-use meter resetting option. It's the easiest way to reset your postage meter, and doesn't require an advance deposit which means you'll never go through the hassle of writing and mailing a check again. Best of all, it's available with no finances charges or extra costs!
Ready to Compare Postage Meters Price Quotes?