Benefits of Investing in Established Blue-Chip Brand
If you're looking into opening your own business, it's important to know the benefits and costs that come with opening a blue-chip restaurant with a nationally established brand. By opening a franchise restaurant, you benefit from preexisting national media attention and brand recognition, which can drive immediate business to your location. However, by going into business for yourself, you have a greater deal of flexibility in all aspects of running the business.
A "blue chip" restaurant is a good bet- in poker the highest value chips are blue ones and franchises described as "blue chip" are high value, widely recognized brands that are a good bet for success. Blue-chip restaurants are chain restaurants with widely acknowledged value and a high success rates. By investing in a franchise of one of these businesses, you set yourself up for success.
So why might someone choose to franchise over starting their own business? Here are some considerations to keep in mind when you're deciding what type of business you'd like to start: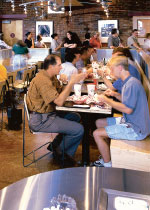 Chipotle's 33% increase in system sales last year drew investors' attention to it and other chain concepts.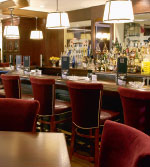 Expansion of Morton's, The Steakhouse, will be funded by capital from its IPO earlier this year.
Start-up Cost:
Franchises take much more money in initial start-up costs than the average individual business. While small businesses take $10,000 on average to start, franchises can cost anywhere from $100,000-$3 million dollars or more to start, depending on the area, business type, and franchise. Some franchises, like Subway, are less expensive to start, but even they cost around $250,000 in initial investments.
The most effective restaurant franchise, according to Forbes, is Panera Bread, which requires over a million dollars (approximately $1,447,770) in initial investment. Though the payoff is greater and the popularity of the brand helps business, this is a lot of capital required at the start.
Franchise ownership also requires a certain amount of liquid assets (aka cash) the owner must already have when he or she buys into the company. To start your own business, you aren't entering an agreement with any other companies so you have infinite flexibility in terms of your start up costs and necessary liquid assets.
Consider your budget. If you're certain you're going to be an entrepreneur, you need to develop a clear idea of how much you're willing to put up at the start, at the risk of losing a lot of money if the venture fails.
Continuing Costs:
Franchises require royalty fees you pay to the company to keep the right to use their name and brand. These fees help pay for services the larger company provides for your franchise. National and regional media ads, franchisee training, and a constantly developing marketing plan are all things your fee goes toward paying.
If you own your own business, you don't owe royalty payments to anyone, but you also don't have the national brand awareness of a larger brand. Additionally, you don't have their long-standing company training program and or their system of operation. If you work for yourself, you need to build employee training, health benefits, and operation systems from scratch.
Brand Recognition
Finally brand recognition is the blessing and curse of owning a large restaurant franchise. While national ad buys and worldwide name and logo recognition bring business to your restaurant, this power can work both ways. If someone in the world gets Mad Cow Disease from a burger at the franchise you work for, say goodbye to your business. It won't matter if the restaurant is across the country, the negative press will prevent business at your location.
However, as an individual business, you are directly competing with these national brands that have many more advertising dollars and strategic marketing campaigns than you do.
Ultimately, whether you franchise or start your own business comes down to your own goals as an entrepreneur. Some people have a vision for a business they build from the ground up, while others want to start a business they see has having "lower risk" of failure due to national or international brand popularity.
Ready to Compare Business Franchises Price Quotes?