Finding the Best Home Security Companies
When deciding to buy a home security system, it's easy to get too focused on the equipment: the sensors, control panels, and other hardware that make up the system. What often gets overlooked is that choosing the best home security company is more important than choosing the actual components of a security system. Here's why - and how to make sure you get the best security for your home and family.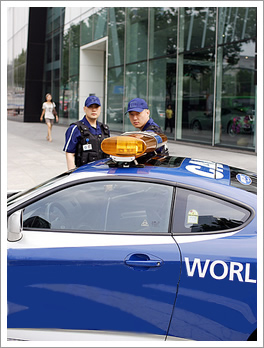 The best home security companies can make sure authorities get to your home as quickly as possible when problems arise.
Choosing the best home security companies
The best home security companies include large and small providers: big corporations who maintain their own sales forces and local offices, as well as smaller resellers that work as authorized third-party installers. To get the most complete protection, we recommend that you work with a security company that offers all-inclusive services: equipment, installation, and monitoring service.
The quality of the monitoring service is one of the distinguishing features of the best home security companies. Talk to several companies before you make your decision, preferably in your home, and make sure you ask about the monitoring service. Find out who runs it, what their response time guarantees are, and what certifications or awards it holds. The monitoring company is ultimately responsible for calling the police in case of an emergency, so their performance is essential to your security.
Reputable providers will also look around your property to determine your security needs and suggest specific solutions: determining if you need a hard-wired or wireless home security system, for example. The best home security companies will always provide price quotes in writing - including setup, equipment, monthly monitoring fees, and warranties. It may be tempting to jump at the first company that offers a great price, but make sure to take your time before agreeing to anything. Remember, you're looking for the best balance of both price and security.
Once you receive quotes and narrow down your search of the best home security system companies, get references from each provider - previous clients who gave permission to be contacted about that dealer's service. Find out why someone chose a particular alarm provider and ask questions about their quality of service.
There are many great security companies out there. In your search, you're likely to encounter at least some of these notable providers:
ADT Security
Broadview Security (formerly Brinks Home Security, now part of ADT)
Frontpoint Security
Protect America (GE Home Security)
Vivint
Monitronics
DSC Security
First Alert (Honeywell Security)
Slomin's Shield
Pinnacle Security
Bay Alarm
Safeguard Security and Surveillance
How to find home security companies
Ready to start comparing home security companies but don't know where to look? Start by submitting a request for home security system quotes. You'll quickly get matched with multiple providers who will let you review services and compare price quotes before making your purchasing decision.
Ready to Compare Home Security Systems Price Quotes?