Hot Tub Accessories to Enjoy
A spa or hot tub is an excellent way to unwind and relax after a hard day at work. A 15-minute soak in the heat and bubbles can massage away the day's worries and tension. Certain add-ons and accessories for your spa, while not necessarily therapeutic, can make your time in the spa more enjoyable.
Electronic add-ons
Maintain the chlorine level of your spa automatically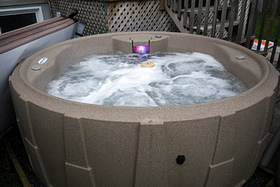 A hot tub or spa with the proper level of chlorine is a healthy hot tub or spa. However, remembering to go out and test it every day, or every couple of days, can be difficult. Devices like the ControlOMatic monitor and maintain chlorine levels monitor and maintain chlorine levels for you, so you cross that step off your list. The company's ColorChlor and TechniChlor products are designed specifically with the spa and hot tub environment in mind.
Freeze-proof your spa or hot tub with help from Intermatic
Pool and hot tub owners will readily recognize the Intermatic name. They have been designing and selling pool control devices for decades. If you have an outdoor hot tub and live in an area where the temperature can drop below freezing, one add-on that you should seriously consider is a freeze protection system from Intermatic.
During the winter most pool and outdoor spa owners will usually turn their pumps and heaters off to save on gas and electric bills. For those living in colder areas, this can lead to costly repair bills come springtime. Electronic add-ons like the Intermatic freeze protection control will turn your pump and heater on when the water temperature falls below a preset level, protecting your pipes and pump from freezing.
Electronic Ph testing
Water Ph is an especially important subject when it comes to spas and hot tubs because of the heat associated with them. More heat means that things like algae grow faster. Ph testing used to be a time consuming process of scooping up a sample of water, measuring a certain number of chemical drops into the water, and comparing the color to a chart. Does that slight red tinge mean the Ph is too low, or too high? Should I add salt or chlorine? With a digital Ph tester, that guesswork is a thing of the past. Your family's health and safety are your number one priority. This device makes ensuring it that much easier.
Hot tub covers
A hot tub cover is an important accessory for this piece of backyard equipment. You'll want to get many years of enjoyment out of your personal spa, and covering it when it's not in use is a simple way to ensure that you get the maximum benefit.
By keeping the cover in place when your hot tub is not in use, you keep your tub free from falling leaves, twigs, and other debris. You can spend less time scooping "stuff" out of the water and more time relaxing in it. Having fewer contaminants also reduces your risk of having to deal with a clogged drain. You'll end up spending less money on maintenance if your unit is protected from hazards in the first place. This is a clear case where an ounce of prevention in the form of a good cover is definitely worth the pound of cure.
Several quality covers have locking mechanisms that strap into place. This safety feature will keep small children out of your hot tub when it's not in use. As a hot tub owner, you'll want to do everything you can to protect your family members, as well as guests visiting your property or children who wander into your yard unsupervised. Having a cover in place is a simple step you can take to avoid a tragedy.
Additional add-ons and features
Booster seats
Often made of sturdy vinyl, booster seats are versatile, water-filled cushions that add comfort to the lower body and help to protect the back. Soft and durable, they also can be used as hot tub exercise cushions, and can provide more safety for children.
Hot tub pillows
Let your clients relish the ultimate hydrotherapy comfort with hot tub pillows. Some pillows are made with tiny shreds of soft material, while others can be filled with air. The leak-proof cushioned interior and vinyl-coated covering provide total head and neck protection. They come with suction cups that securely hold the pillows in place.
Floating trays
Typically made of light plastic or thick foam, floating trays can accommodate a mixed assortment of snacks, beverages, or personal items for additional pleasure when relaxing after a stressful day. With these functional floating trays, you can set up a spa bar on a romantic evening with your partner. A good alternative is a spa caddy, which can be fixed to a side of the hot tub but installed to swing out freely for convenience.
Waterproof Playing Cards and Board Games
Made of light plastic, waterproof playing cards guarantee hours of fun and bonding in the hot tub. Like the cards, board games come with floating boards that feel dry and stay playable for as long as players wish.
Hot Tub Umbrella
This is a perfect accessory for outdoor hot tubs, protecting both bathers and hot tubs from the damaging elements. People love to lull under the sun, but hot, sunny days can lead to sunburns or irritating eye conditions. Most hot tub umbrellas are easy to install and collapse when not in use.
Ready to Compare Hot Tubs Price Quotes?