Calculating the Cost of an ATM for Your Business
Placing an ATM in a small business is becoming more popular because companies can leverage ATMs in several key ways. An ATM can encourage customers to spend cash more freely and make immediate purchasing decisions, add to the service value of the store by drawing in more customers, and raise extra revenue thanks to percentage payments the ATM owner receives from frequent transactions.
If a business wants to do a quick cost-benefit analysis, finding the number of customers or passersby able to use the machine on an average day is essential. Statistically, about 3 percent of these people will actually make an ATM transaction. Use this number, multiplied by the surcharge the business takes in for each transaction, to find the average daily profit.
When businesses first consider an ATM, the primary question is, "how much does an ATM machine cost?" Long-term profits are great, but if the short-term costs are too high the ATM strategy may not be worth it. The first step is research. Costs for a permanent, business-owned ATM vary according to factors such as location and features.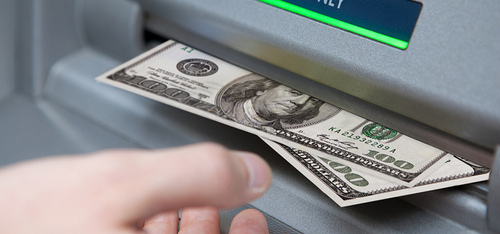 Best one in the area
There may be a best brand in your area based on availability. Generally, all ATMs have similar price ranges, but shipping expenses could vary, making local a key consideration. Unless you find a special deal, cost differences between manufacturers are typically negligible. Buying a new ATM will ensure proper maintenance services and availability of parts. ATM USA, Eagle Express Systems and Empire ATM are all popular choices but shop around for the one that is right for you and will not cost a fortune to get to you.
Machine cost
A new ATM will cost between $2,000 and $3,000 for a typical free standing model. This is the model that are installed in store corners. The other option is known as a through the wall (TTW) model, such as this model available from CGI Direct ATM. These ATMs are installed in the wall, often outside a store or business, and allow users to access them at any time, regardless of store hours. This is a useful feature in high traffic areas, but these TTW versions cost between $4,000 and $8,000.
Cost of features
"How much does an ATM machine cost?" can be a vague question unless you are prepared to choose specific add-ons and features for your model. ATMs can provide deposit services, sell lottery tickets, and offer a host of other services. This is why the cost variance for models is so high. A streamlined machine with only the basics will cost $2,000 on average. A model with extra features may make more money long term but will cost much more up front.
Cost in the long term
Some maintenance fees will be required for ATM monthly services, but these tend to be negligible. Power bills will rise, and businesses must either devote time to filling the ATM or hire a company to manage it. A lease-to-own option will draw out the payments over months and incur hefty interest charges compared to buying the ATM outright.
Making the choice to buy or lease based on ATM prices
When considering ATM machine prices in weighing options for your business, you will want to consider whether it makes more sense to buy or lease this type of equipment. Before making your choice, you will want to consider both options carefully and shop around for the best pricing.
Buy an ATM machine
If you decide to buy from a company, you could get competitive ATM prices for the unit. Be sure to ask about different models the company is offering for sale, and if you have the option of buying a stand-alone ATM as well as a "through the wall" machine. Depending on the location you have in mind, you may need to focus on a particular type of model for your business.
You will also want to ask about the level of after-sale service you can expect from the company. Can you get technical support by phone when you need it?
You will also want to find out whether the company will allow you to upgrade your ATM after the purchase. If this is an option, what kind of terms would you be allowed on a new model?
Lease an ATM machine
When you are considering ATM machine prices, you should also look at whether it makes sense to lease this type of equipment. If you decide to buy the ATM, you would be responsible for all repair costs. If the machine was a rental, you would not have to take on this expense; it would likely be covered under your lease agreement.
Before you make a final decision that leasing is the right choice, be sure to go over the figures carefully. You will need to factor in the total cost over the lifetime of the lease to determine whether it makes good economic sense. The monthly expense may be lower than paying the full cost to buy the ATM up front, but you may end up paying more over the long run.
Making the decision to buy vs. lease on ATM prices
Consult with your accountant to find out whether you will be further ahead at tax time depending on whether you buy or lease your ATM machine. Once you know which one will give you the bigger tax deduction, you can start comparing prices from different companies and considering the service terms they offer.
Keep in mind that you will want to find a provider that can offer reliable follow-up service. You will want your ATM location to be known as a reliable one, no matter how much you end up paying for your machine. Let BuyerZone help you obtain quotes and services.
Ready to Compare ATM Machines Price Quotes?