ATM Tips to Help Owners Generate Easy Profits
Putting an automated teller machine in your business is one of the best ways to earn additional income, but you have to do a little strategizing to ensure it gets enough use. An ATM that gets no usage is a wasted investment, so you have to follow some useful ATM tips and tricks to make sure you're getting the most out of your machine.
Where would it go?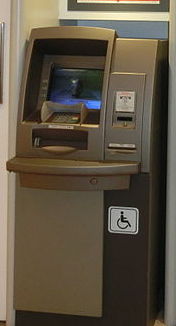 If you get a lot of foot traffic in your store, customers are very likely to swing by the ATM to get cash. But your ATM must be placed so that it's not an impediment to customer traffic, yet is easy to get to and clearly visible. Don't forget safety and security, either. Customers don't want to use a machine in a tight or crowded space, where passers-by can see pass codes as they punch them in, but they also might be nervous to take out cash if they're in a distant corner of your store where they might be accosted by a thief. Pick a spot visible from the register or manager's location, but not right in the thick of the crowd.
"Advertise" your ATM.
A few well-placed signs will get more people to use your ATM, and even to enter your business just to pick up some cash. Have "ATM" signs made up for an exterior window that faces the sidewalk or road, and be sure to put a similar notice by the cash register or another highly visible part of your business. If artfully done, these signs can help drive traffic without detracting from the look of your business.
Use free ATM programs.
If you don't want to take ownership of a machine, some providers can step in to offer a different arrangement. ATM distributors offer to place machines at high-traffic locations, free of charge, and will give the business owner some portion of the ATM's surcharge revenue. So, that means the distributor pays for the ATM, takes care of all the processing, and then they install and set up the machine. If you decide to go this route, it's important to thoroughly research your distribution partner so as to work out your responsibilities, how quickly they will respond to problems, and what cut of the revenue will go to your coffers.
The best and most profitable ATM tips and tricks include clever placement for your machine, subtle reminders to the customer that you have a cash machine available, and working with a provider to come up with an ownership arrangement that still leaves you with some profits. With a little care and attention, an ATM can pay for itself very quickly and provide profits for years to come.
Ready to Compare ATM Machines Price Quotes?