Protecting ATM Machines from Skimming Scams
ATM skimming, a scam in which bank card information is copied along with a customer PIN, allows thieves to steal money from the accounts of unsuspecting people. Small business owners have to be aware of this danger, as ATM machines located in convenience stores, bars and restaurants are primary targets for skimming.
Fortunately, there are numerous techniques for spotting a skimming device and tactics to employ to ensure your customers and business aren't affected. Here are five tips for spotting these scams.
Have employees check the ATM periodically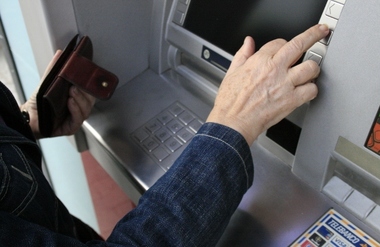 Skimming devices are placed on top of the machine's card reader. Advise employees to make regular checks of the machine. The object looks exactly like the standard readers from straight ahead.
To spot a skimming device, look at the side of the machine for an overlapping object. If you see an additional reader (or a small hole used for the camera), shut down the machine and contact the police immediately. The criminal may still be on the scene.
Discourage loitering
Skimming attempts rely on two elements: the swipe of the card and capturing the PIN of the ATM customer. To foil the second half of this scam, keep an eye on the machine to make sure no one is loitering nearby in hopes of reading a customer's PIN. With no camera and no access to a PIN, the criminal's efforts are fruitless.
Also, be sure to take note of anyone lingering over a transaction. Criminals work quickly, but you'll be able to notice when someone spends too much time on a transaction. It only takes a minute or so to withdraw cash. If anyone spends more time, check to see what's happening.
Advise customers to cover their hands when typing in a PIN
Since scammers need the PIN to get money from innocent customers' accounts, then you can ruin their plans by informing everyone to cover their hands when entering in a PIN. Whether a camera is installed or someone is close to the machine watching the customers, no one can access money without a PIN.
Post a sign on your ATM advising customers of this security technique.
Location
Keeping your ATM in a well-lit, visible, and well-trafficked area of your store is the best way to prevent your machine from becoming a target for skimmers. Skimming is appealing to many thieves because it is non-confrontational and easy to do without detection.
The greater the risk of being seen and caught, the less appealing your ATM becomes to thieves.
What to do If you find a skimmer on your ATM
The National Association of Convenience Stores suggests the following actions if you believe an ATM skimmer has been installed on your machine:
Immediately take the machine offline. Put an out-of-order sign on it and steer customers away.
Treat the area like a crime scene, and do not touch anything. Call local law enforcement in to report the problem.
Once the installation of a working skimmer has been verified, call your bank and your ATM service company with the information.
Ready to Compare ATM Machines Price Quotes?