Retail Predictions for 2015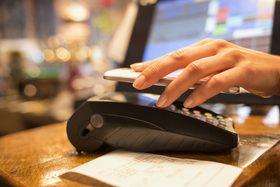 Retailers are in the process of finalizing their marketing strategies and budgets (if they haven't already done so) with the goal of optimizing sales and profits. Here are a few trends they should be paying particular attention to:
1. The in-store shopping experience will become more personalized
We've seen retailers hone their personalization skills online for years -- e.g., tailored search results and landing pages, product recommendations, personalized offers, etc. -- but they're beginning to integrate these strategies offline as well. For example, beacons are proving effective at personalizing consumers' in-store experiences, and brands have taken notice.
"More than half of the top 100 retailers are actively working with beacon technology," said Rob Murphy, vice president of marketing at Swirl, in an eMarketer report. "They're in different stages, but all of them are evaluating, testing, piloting, trying it out."
TIP: Investigate how shoppers are using their mobile devices inside your stores, then begin to plan solutions for that behavior. For example, if you find that a large percentage of shoppers are going to coupon sites (e.g., RetailMeNot, Coupons.com) after viewing products in-store, consider sending them discount offers to their phone or instituting a price-matching policy.
2. Smartphones will be used for transactions, not just browsing
It's not exactly going out on a limb to say that mobile commerce will continue to grow in market share in 2015. What is a bit bolder, however, is forecasting that smartphone conversions will outpace those occurring on tablets. But that's exactly what Jim Davidson, head of research at Bronto Software, said in a recent podcast interview I did with him for Retail Online Integration.
After looking at the stats for Black Friday, which is traditionally a brick-and-mortar event, sales from smartphones nearly doubled year-over-year, while tablets were only up 2%. Davidson's reasoning:
"I think we're going to start to see smartphones be deeply integrated into the path to purchase," Davidson said. "It's not just that consumers want to buy via smartphones, it's that they can. And not just in one way -- it can be through an app, mobile site, affiliate program, etc. As screens get bigger and technology tools get better, smartphones are really going to be the place where consumers click the 'Submit' button."
TIP: Dig deep into your mobile analytics -- visits, time spent on site, conversion rate, etc. -- to get a better understanding of how your customers are engaging with your mobile site, as well as areas that need to be improved upon (e.g., product search, checkout).
3. Mobile payments will become more commonplace
This year's launch of Apple Pay is the just the latest step in mobile payments becoming more mainstream. With substantial support from major banks (Bank of America, Citibank, Capital One, Wells Fargo) and retailers (Macy's, Toys"R"Us, Office Depot), Apple Pay has helped to raise not only its own profile, but that of other mobile wallet solutions such as Google Wallet. Consumers are becoming more comfortable using their phones as a payment device.
In fact, 56% of consumers said in a recent survey from Retale that they would be interested in using a mobile device to pay for a gift during the holiday season. Furthermore, of the highly sought after millennial demographic, 67% of respondents find mobile payment to be convenient and 74% want retailers to offer a mobile payment option in-store.
TIP: Ensure that your point-of-sale system is able to process mobile transactions. In addition, look into whether accepting mobile wallet solutions such as Apple Pay make sense for your business.
4. Omnichannel fulfillment is the future of the retail supply chain
Today's consumers are no longer willing to accept products being out of stock or waiting days to have their order shipped. Consumer patience is virtually nonexistent. Retailers must be able to fulfill orders from anywhere or any channel, whether it's the customer's home or a brick-and-mortar store.
Research shows that in the next five years, the most significant shift in omnichannel fulfillment will be the in-store pickup of goods, a fulfillment option predicted to virtually double by 2017. Consumers are increasingly opting for the ease of shopping online at their convenience, but don't want to have to wait to have their orders to be delivered. Buy online, pick up in-store addresses this need for shoppers while creating a new revenue stream for retailers.
TIP: The first step in developing an omnichannel fulfillment solution is to obtain a single view of your inventory across all channels (stores and distribution centers). Accomplishing this enables you to fulfill orders at any time and from any location.
These are just a few of the trends that I believe will be coming to the forefront in 2015. The common theme in all of them is that the customer is in control. They're dictating to brands how they want to be marketed and sold to, not the other way around. Becoming a customer-centric organization is critical to future retail success.