The Slow Death of Black Friday
With the holiday shopping season upon us, retailers are bracing for the flood of consumers that will visit their stores and websites (including mobile) over the coming weeks. While the four-week stretch between Thanksgiving and Christmas will rarely bring downtime for most retailers, some days are busier than others.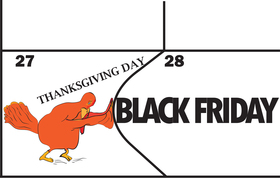 Black Friday is at the top of that list ... but for how long?
Believe it or not, various reports are saying that the kickoff to the holiday shopping season -- Black Friday -- is losing some of its appeal. This is happening for a couple of reasons:
Thanksgiving creep: Less retailers every year are waiting for Black Friday to kick off their holiday sales; instead, more and more retailers are opening on Thanksgiving Day to cash in on eager shoppers. Wal-Mart, Target, Macy's, Sears, J.C. Penney are just some of the retailers whose doors will be open on Thanksgiving Day.


Early access to online deals: The internet has given retailers another channel to promote their holiday deals earlier than ever, as brands fight to gain a piece of the holiday spending pie before it's all gone. For example, Amazon.com launched its Black Friday deals eight days early, while Wal-Mart has transformed Black Friday into a five-day event.


Cyber Monday: The online equivalent of Black Friday, Cyber Monday serves as an alternative for deal- hungry consumers who don't want to fight the crowds in-store. The online sales event, which got its start less than 10 years ago (2005, to be exact), routinely sets single-day online sales records, and this year figures to be no different.


Consumers want to avoid the madness: For many shoppers, it's no longer worth getting up before dawn, standing in line (oftentimes in cold weather) and dealing with the craziness that comes with Black Friday just to save a few bucks. And even then, how much are you really saving? According to an analysis of offers on RetailMeNot, the average savings on Black Friday last year was 37% -- the same as on Thanksgiving and the following Saturday.
A shift in shopping trends
According to a recent National Retail Federation (NRF) survey, 31.6% of respondents said they would wait to see if the deals are worth it before deciding to shop on Black Friday, up 2% from the prior year.
"We could witness a sea change this holiday season as consumers reliance on extremely deep discounts over the biggest shopping weekend of the year shifts to more of a wait-and-see mentality around what retailers will be offering on Thanksgiving Day and Black Friday," said NRF President and CEO Matthew Shay.
In addition, a separate study by America's Research Group found that 60.5% of consumers who aren't planning to shop on Black Friday said they might change their mind if the Thanksgiving Day newspaper inserts grab their attention. This number is up dramatically from last year's 17.6% who said so.
Here are some tips for retailers on how to optimize their holiday marketing efforts:
Update your website regularly. With the more and more consumers planning to shop online this holiday season, be sure that your website is ready for the increased traffic. Put promotions front and center (e.g., free shipping, 25% off) to increase conversions.


Leverage social media to promote your offers. Whether it's Facebook, Twitter, Pinterest or other social networks, your customers are using social media. Post holiday deals and offers to your social pages to direct deal-hungry consumers back to your website.


Try mobile coupons. Make it enticing for your customers to shop via their mobile devices by sending coupons directly to their phones, either by SMS (text message) or email. This strategy can also help get people into your brick-and-mortar stores if the messages are geo-targeted based on your closest retail location.


Make your brick-and-mortar stores holiday destinations. Spruce up your stores to get shoppers in the holiday mood. Hang lights and decorations, put up a Christmas tree and use signage to wish people happy holidays. Also take advantage of in-store signage to promote your holiday offers and services (e.g., free gift wrapping).
Black Friday, which got its name in the mid-1960s as a reference to stores moving from the red ink (loss) to black ink (profit), is evolving. While I'm doubtful that it will ever be as big as it was prior to the explosion of e-commerce, I do think it will have a place as one of the busiest days on the retail calendar.