How Retailers Can Prepare for the Holiday Rush
With the unofficial kickoff to the holiday shopping season arriving this week with Black Friday – although retailers are trying their hardest to push that start date up every year – retailers need to be prepared for the onslaught.
Be prepared across all channels
That means having purchased the necessary inventory to meet consumer demand, pricing that inventory to move it (while still maintaining profit margin), and having the staff necessary to fulfill this increase in orders, along with a host of other marketing-related planning.
As has been the trend in recent years, these orders will be coming via multiple channels – in-store, online, mobile, call center. It's important for retailers to consider the following:
Sales during the holiday shopping season are forecast to increase 4.1 percent this year to $586.1 billion, according to the National Retail Federation.
Consumers are expected to spend $68.4 billion online this holiday season, representing a 15 percent increase over last year, according to a Forrester Research report.
Mobile-influenced retail store sales will account for 5.1 percent, or $36 billion, in retail store sales during the holiday season, according to Deloitte.
Mobile devices captured nearly 20 percent of all online shopping in this year's third quarter, which bodes well for online retailers heading into the holiday season, according to Monetate.
Be prepared within departments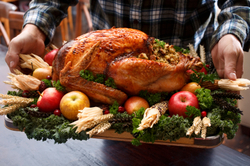 Retailers are opening on Thanksgiving night to squeeze every sale out of the busy weekend.
In addition to the distribution of purchases across multiple channels, especially with the growth in popularity of Cyber Monday in recent years, the gradual movement of the start of the Thanksgiving shopping weekend earlier each year is a major trend in the retail industry.
Rather than waiting till the early hours of Black Friday to open their doors to lines of consumers looking to cash in on the available deals, retailers are opening on Thanksgiving night to squeeze every sale out of the busy weekend. Wal-Mart, Target, Toys"R"Us, and Kmart are just some of the brands that will have stores opening on Thanksgiving. Best Buy, Kohl's and Macy's won't be far behind, opening their doors at midnight on Black Friday.
This of course isn't sitting well with these brands' employees, who are being asked to sacrifice time with their families during Thanksgiving in order to work.
Casey St. Clair, a six-year Target employee from Corona, Calif., has decided to take action. St. Clair started a petition on Change.org asking Target CEO Gregg Steinhafel to forego the plan to open stores on Thanksgiving. The petition has received over 300,000 signatures.
A group of Wal-Mart workers at roughly 1,000 stores is planning a walkout on Black Friday over a litany of complaints they have with the world's largest retailer.
Corporate profits appear to have won out over employee morale.
The solution
My solution to this "Black Friday creep" problem, as it's been referred to, is to direct shoppers online with the same deals that are offered in-store – with free shipping. This keeps workers at home with their families to enjoy Thanksgiving dinner, and still gives consumers the opportunity to get a head-start on their holiday shopping. These online orders can be fulfilled Friday morning. Come Black Friday morning open your stores to the masses.
Happy Thanksgiving!