POS System Buying Advice for New Store Owners
Savvy first-time retailers know to look for a POS system designed for retail stores. But even more savvy store owners know to look even more deeply to find the best fit. We spent some time with buying expert Donna Crichlow to get the details on what to look for in a retail point of sale solution.
As a first-time store owner, what do I need to know about POS systems and what they can do for me?
The biggest thing you need to know is what your specific vertical requires in terms of POS features and benefits, and can the proposed POS systems handle those requirements.
For example, if you are a clothing store, you need to track sizes and colors, customer purchase history, and more than likely, offer a customer loyalty program and gift cards. If you are a bike shop, you need all of the same, plus the ability to track serial numbers. If you are a grocery store, you need to be able to take food stamps, EBT and WIC checks, and set mix-n-match pricing.
The POS system needs to be able to integrate with scanner/scales and deli scales. These are just a few examples.
If you want integrated credit and debit card processing, is the proposed POS solution PCI and PADSS compliant?
Your prospective POS suppliers should go through a needs analysis with you. This will help you whittle down your list of potential solution providers to just those companies that can meet your specific needs.
Then it is a matter of price versus level of service needed and provided.
If I want to sell online in addition to in a bricks and mortar store, are there additional considerations I need to make?
First, how serious are you about your online commerce plan? If you are just kicking the tires, go with a do-it-yourself solution like GoDaddy, and don't worry about integration to POS now, but make sure it is available.
If your online plan is a large part of your total revenue stream, then not only should your POS solution offer an integrated add on path, but you also need to make sure you have the budget to commit to the online piece.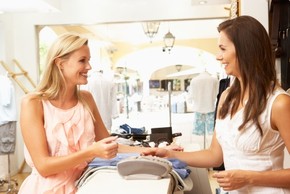 If there's one piece of advice that you would give shop owners looking for their first POS system, what would it be?
Know the level of service and support you need and make sure your POS supplier can supply it affordably and reliably.
Can POS systems make a cash register's cha-ching sound?
Reduced shrinkage and faster inventory turns alone mean more positive cash flow and a stronger bottom line; the proverbial "cha-ching." And yes, the cash drawer has a bell that dings when opening at the end of a sale.