The Rise of the Pop-Up Shop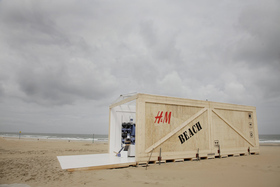 With the impending arrival of summer ­– and the nice weather that comes with it – retailers are heading outdoors and using innovative pop-up shops to sell their wares to customers. Pop-up shops, however, aren't limited to the warmer summer months; they've become a year-round phenomenon.
The temporary spaces have proven popular with retail brands large and small for their ability to offer a physical store presence at a fraction of the cost of a full-year lease. According to a recent report from Specialty Retail, temporary retail (i.e., pop-ups) has grown 16% annually since 2009, becoming an $8 billion industry.
Leading retailers such as Nordstrom and Amazon.com have rolled out pop-up shops to test new products, while previously online-only brands including Indochino and Warby Parker used the format to dip its toes into the brick-and-mortar waters. What they've learned is that there are several advantages to pop-up shops, including the following:
Affordability: Due to their smaller size and limited lifespan, pop-up shops can be an affordable option for startup brands that may not have the capital yet to lease a more traditional retail storefront.


Short-term commitment: Pop-up shops afford retailers the luxury to open when traffic and sales are expected to be high (e.g., Halloween costume pop-up shop in October) and close when times are slower.


Increased brand awareness: Pop-up shops generally draw attention from consumers because of their unique design and temporary nature. Target, for example, opened a two-story dollhouse pop-up shop within New York City's Grand Central Terminal to celebrate the launch of the company's Threshold collection of furniture, décor and housewares.


Testing forum: The short-term nature of pop-up shops enables brands to use them as a testing ground for new products, services, features and brand extensions. What works can be integrated into the business on a full-time basis, while what doesn't can be scrapped.


Sell off old inventory: Stuck with winter merchandise as the calendar turns to spring? A pop-up store can be the perfect outlet to sell products offline that you couldn't move online.
Setting Up a Pop-Shop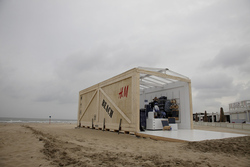 With the benefits of a pop-up shop identified, the next step is mobilizing your company to open one of its own. Here's how:
1. Identify what you need. From how much space is needed to display your products to whether you need a permit to operate to how payments are going to be accepted (e.g., cash only vs. POS system), be prepared before signing a lease.
2. Pick the right location. Identify a high foot traffic area that will include a large percentage of your target demographic. For example, a sports apparel retailer may want to open a pop-up shop near the local team's stadium or arena, while a cosmetics brand chooses a shop-within-a-shop in a salon or spa.
3. Familiarize yourself with the nuances of your lease. Be sure to read the fine print when it comes to matters such as making modifications to the space, what hours the store can be open, how utilities are being paid for, etc.
4. Designate resources to the shop. Research how much sales staff/support personnel will be needed to operate the store on a daily basis. Account for peak demand, as it's likely your pop-up store will be open during one of your busier seasons.
5. Design your space. Identify what the primary goal of your pop-up store is – e.g., introduce your brand to new prospects, sell to existing customers, push your social presence – then make design choices based on that initiative. For example, if your primary goal is to drive sales, you want a more product-dense environment.
6. Promote your pop-up. Use available marketing channels such as your company's social media pages, email program, website, brick-and-mortar stores, catalog, etc. to promote your pop-up store to customers and prospects. Think about leveraging a special offer or incentive to draw consumers to your pop-up location, like Marc Jacobs did recently.
With minimal risk and the potential for maximum reward, a pop-up shop could be your brand's next big success story. Follow the steps above to make the most of your investment.
Images are photo courtesy of Superfuture.com