The iPad POS System
Several third-party point of sale (POS) providers have developed a iPad POS systems that have become substantial advancements in technology for the restaurant industry, as well as for retail stores, hotels, and other businesses.
A wireless POS system, the iPad POS manages and process transactions from any location, with cloud based technology, communicating with your existing POS system or computer. It's also a modern management system that has features for financial reporting, inventory management, marketing, employee time and attendance, and staff performance.
How it works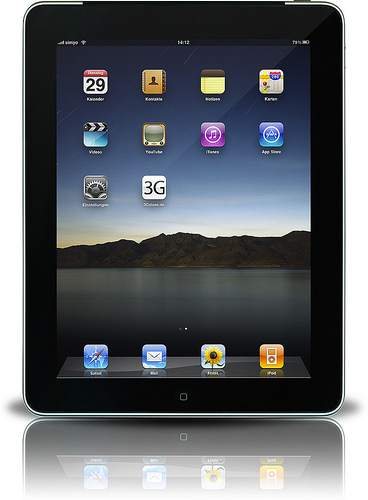 Incredibly easy to use, the iPad POS system involves an iPad or iPhone, a cash drawer, and a receipt printer. An app is used for transactions and reporting. Because it is a wireless POS system, employees can remove the iPad or other device from its dock, taking it to tables to show an interactive menu, take orders from customers or present customers with their bill, or around a retail showroom to present clientele with the season's newest items.
When customers pay with a credit card, the card is swiped along a separate card reader, or along an attachable credit card reader device like Square. When customers pay with cash, first the transaction is entered into the iPad, then the cash register is used to give out change. Staff can print receipts wirelessly, or stand at the cash register without having to dock it in order to make change for customers.
Your iPhones, via wi-fi, connect to the iPad POS system, which means that employees can use their own iPhone to take orders at their tables and instantly submit the orders to the kitchen, or ring up items the customer plans to purchase. This shortens the time customers spend at the cash register before they leave the store, making customers have to wait less time in line, and freeing up time for employees.
Management features
Something to note about the iPad POS system is that it is not simply a cash register - it's a comprehensive management system. All transaction information is stored and can be accessed in the cloud, from any internet ready device, for instance by a manager in the back office to get an estimate of sales made that day. Most iPad POS software includes:
Reporting features
Mobile menu-ordering
Time clock for employees
Multiple terminals
QuickBooks integration
Mobile payments, accepting PayPal and LevelUp
Employee information (sales per employee, etc.)
Inventory management system (can be used to count inventory and instantly upload it to a computer)
Modifiers for customizing menu items, directly sent to the kitchen
Marketing features (store customer email addresses, create mailing lists, track loyal customers)
A few companies that offer the iPad POS are Revel Systems and POS Lavu. If you're looking for an iPad POS system, BuyerZone is a great place to start to compare prices on point of sale systems between several different suppliers.
Ready to Compare POS Systems Price Quotes?