Buyers Have Plenty of Options When It Comes to POS Portability
Shops of all sizes and industries can benefit from portable POS systems. In addition to providing quicker and more efficient service, many portable POS options also deliver the same additional benefits as fixed POS machines, including a wide variety of data handling features that can help with business intelligence and business planning.
Portable technology
Although wireless POS systems vary quite a bit based on several factors, some general models have emerged. Wireless POS setups also use bar code technologies, which utilize codes accessible to mobile devices that, in turn, recognize the bar codes on store products.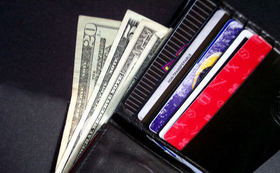 Another fundamental model of wireless POS is a "cell phone POS system" that uses smartphone devices. Business owners can often accommodate transactions and shopping experiences not only by placing an e-commerce store on a smartphone-accessible platform but also by using a "business phone" to ring up purchases.
Wireless POS terminals
Wireless terminals are essentially portable devices that combine the usefulness of a card scanner with on-point data about inventory and order processing. Small enough to be carried around by employees, these devices enable companies to offer the customer more flexible purchasing options.
Key advantages of the latest models include:
Payment options: Today's wireless POS systems allow your clients and customers to pay with credit, debit, or gift cards, checks, or financing. The integration of multiple payment channels through cloud computing and sharp data management makes it easy to offer customers whatever choice works best for them. Wireless systems can also handle special promotion deals and customer-specific rates.


No cords and cables: Some businesses find that the cabling or other infrastructure required by older POS systems ends up making their store look cluttered, less accessible, or old-fashioned. Wireless terminals and their associated hardware have sleek, clean designs that help make a better first impression on customers.


Training 2.0: The wireless POS interfaces available today also make employee training much easier. Menu screens feature increasingly easy-to-use tools that employees quickly grasp without having to waste time learning a new system. Better software also helps nab input errors before transactions are completed and prompts users if a required field is left empty. This is especially useful in environments where errors can easily mean loss of business, such as restaurants.


Big data: In the world of business planning, wireless POS terminals and devices can give a business a better chance of competing in a tough industry or market, as well as better manage their inventory, staff, and cash.
Cell phone POS systems
While customers may prove slow to accept digital wallets and NFC technology to pay with their cell phones, businesses can meet them halfway with value-adding mobile transaction services. Other benefits include:
POS right where you are: With the right tablet or mobile phone software, sales representatives can meet with customers out on the floor, help them choose a product, and let them make a purchase. Customer details, product choices, and payment preferences can all be saved directly for later use.


Order entry in real time: The right Android and iOS apps allow restaurants of any size to take down orders and transmit them to the kitchen wirelessly, often via a remote printer. This clears up confusion, speeds up the ordering process, and makes customers happy.


Credit card processing: Scanners have become traditional, unwieldy devices. The future is in automatic card reading and QR code scanning through cell phones.
Buyer Beware
The best wireless POS software is also backed by rigid security to prevent the loss of viable information or outside threats to the business and its assets. Overall, wireless POS software also needs to be easy to use, since leadership will be training any number of front-line workers on how to do their jobs with these high-tech resources.
Calculating Cost
At first glance, a portable POS system is attractive for any business where flexibility matters, but will the profits received outweigh the cost of equipment and maintenance? Here is help calculating the increase in business versus the cost of implementation.
Does your access to customers dramatically increase? A handheld POS terminal can cost over $1,200 before adding credit card processing features. To justify this expense, you'd need to increase sales at a significant clip in the months following the purchase.


Analyze the potential for employees to work more efficiently. Some business owners can take their current exposure to clients and increase the volume of sales with wireless capabilities.


Are you losing customers fed up with long lines? Since customer patience is at an all-time low these days, you're going to get walkouts. Wireless terminals allow employees to intercept these customers and save them before they storm off. Be sure to approach customers from the middle of the line first.
POS hardware and service can be more expensive than traditional credit card processing fees and equipment, which can eat into your profit margin if you are not prepared. If you see a potential to at least break even, the small gamble could be worth it.
POS portable solutions have delivered quite a bit of innovation to retail and other markets, allowing business leaders to dream bigger and brainstorm newer and better ways to serve customers. Consider some of these cutting-edge solutions for your business.
Ready to Compare POS Systems Price Quotes?