Laser Motion Detectors Trigger Your Monitored Alarm System
A laser motion detector is a key component to your company's monitored alarm system. These devices trip the alarm by sensing changes in the infrared energy levels when an intruder is in the area.
What is the purpose of a laser motion detector?
Monitored alarm vendors can install a laser motion detector at various parts of your home or office. The device is typically small and installed in discreet areas like the corners of windows or on walls. Detectors can protect large surface areas - a single motion detector light can detect movement in a 100-foot radius - by alerting the central monitoring station that there is an unauthorized entry on the premises.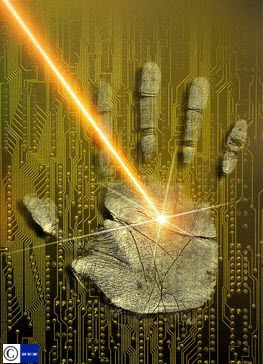 A laser motion detector can be used to:
Detect motion in a certain zone of a building.
Control access via motion detection at building entry points.
Keep employees or visitors out of a restricted or unsafe area.
Prevent break-ins after hours.
Monitor outdoor building activity after hours.
Support a traditional security alarm system with advanced motion detection.
Before including a laser motion detector as part of your system, make sure it's the right option for you. For businesses, you need to deactivate your alarm before entering as you could trip the motion detector unknowingly.
If you own house pets, many newer motion detectors include a pet alley that will allow them to freely roam around without triggering the alarm. However, if your pets are very active, they may set more sensitive systems off.
Other options in security monitoring devices
A laser motion detector is just one of many basic devices included a typical monitored security system setup. Other reliable security system components may include:
Control panel. The "brain" of the system that is installed out of sight and sends all signals to the central monitoring station.
Security keypad. Electronic keypad installed outside entranceways for employees to enter codes for safe entry.
Window and door contacts. Magnetic devices installed along door jams and window frames to trigger an alarm when opened.
Sensors. Devices that alert the system when glass breaks.
Sirens. Multiple loud horns and strobe lights that alert passersby to possible intrusion.
Video surveillance. CCTV provides live footage of activity on the premises that can be viewed from a smartphone, tablet, or computer.
Wireless compatibility. Offers more secure monitoring if a phone line is cut or in a power outage.
Automation. Home and business owners can use a security system to control lighting, thermostats, and certain appliances via a smartphone.
Is your office ready for a laser motion detector?
FBI statistics confirm that property crimes increased a modest 1.5% in the first half of 2012. This makes serious crimes like burglary and vandalism a potential risk for home and business owners alike.
In many cases, a basic security system simply won't cut it. One or several of the advanced features listed above can be integrated into a standard alarm system to up security and provide you with much-needed peace of mind.
Whether you're most reliant on a motion detector light or several other alarm system components, you can submit a free BuyerZone business security system request for quotes. After getting matched to multiple dealers, you can compare services and price quotes to determine the best fit for your business.
And if you need a laser motion detector for your home, BuyerZone also has you covered. We offer the same request for quotes service for your home security system needs - it's always available and always free!
Ready to Compare Monitored Alarm Systems Price Quotes?