Myths About Burglar Alarm Systems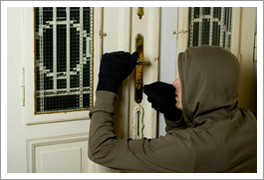 You can deter intruders by having an alarm professional install a complete burglar alarm system.
Would it make sense to have tens of thousands of dollars of inventory but no way to protect it from theft or vandalism? Or to risk the invaluable customer data that modern criminals crave? Burglar alarm systems can prevent the havoc and disruption caused by theft and break-ins.
What do burglar alarm systems do?
A burglar alarm system helps detect unauthorized entry onto your company's premises. When tripped, the system sends a signal to a central monitoring center. These monitoring centers provide 24/7 service and will alert local police to dispatch authorities to the scene.
Why do you need a burglar alarm? Statistics don't lie
While you may feel that your home or business is the exception to the rule, you can't deny the cold, hard facts.
Here are some sobering burglary statistics in the US that may be enough to convince you of your need for added security:
The FBI confirms 2.2 million burglaries per year in the US.
On average, a burglary occurs every 14.16 seconds.
6101 burglaries occur per day.
Residential burglaries make up 70.3% of all reported robberies.
According to the FBI, the burglary arrest rate for 2008 was 13%.
The average burglary loss is calculated at $2079.
8 burglar alarm myths BUSTED
By now, your head may be spinning with questions about burglar alarms. Are they for me? Can I afford one? Are they difficult to use and install? Let's run through the most common myths of burglar alarm systems and try to put your concerns to rest:
Myth #1: They're too expensive.
These days, a burglar alarm system for a business is quite affordable; a small business can get a basic system for less than $100, equipped with wireless support. Many vendors provide equipment and installation for as low as $100 and charge a low monthly monitoring rate of $25-$40.
Myth #2: There's no value to my bottom line.
You may never need it, but the small total cost will pale in comparison to the losses you could realize without protection - your equipment, merchandise, customer information, operation uptime, and even employee confidence that you run a safe work environment.
Myth #3: They're too hard to use.
Operating a burglar alarm system can be as simple as memorizing a few numbers that make up your passcode. In today's high-tech world, you can even comfortably monitor your business security system from your smartphone using vendor-provided mobile apps, geo-services, and remote system control. If you can text, you can control your security alarm!
Myth #4: I don't have time to train employees.
It typically takes under an hour to explain and demonstrate how a burglar alarm system works. A vendor may provide on-site training for the use of a more complex business security system involving camera surveillance or access control; brief training can be used to teach employees how to enter and exit a building using a security code.
Myth #5: The system won't work if my phone lines are cut, or I lose power.
Most burglar alarm systems are equipped with sophisticated battery and/or cellular backup systems that kick in right away should your power or phone connection fail. By now, many security system vendors have recognized that a burglar alarm quickly becomes vulnerable if it depends entirely on a landline or Internet connection. Several security providers currently offer the alternative of 100% cellular monitoring to ensure that an alarm alert will always go through.
Myth #6: False alarms will have us "crying wolf."
How do I find a burglar alarm system?
Many burglar alarm systems allow you to cancel alarms yourself. There are also audible delay features to give authorized personnel time to prove to the monitoring station that they belong there. In day-to-day activity, false security alarms are easily preventable with proper staff training, correct verification when contacted by a monitoring center, and regular equipment repair and maintenance.
Myth #7: They take too long to install.
A burglar alarm system for a small-to-medium sized business can be installed in 4-8 hours. A provider can have your alarm up and running and your staff trained within a single workday. A wireless security alarm for a small business is user-friendly and easy to connect and will avoid the cost of third-party installation.
Myth #8: I don't need one; I have insurance.
Insurance exists to replace lost, stolen, or damaged property. But it can't replace the losses your company experiences due to downtime. What happens if an intruder rips up your phone system or smashes your servers? How about if they steal confidential information about your customers or partners? Insurance won't reimburse you for business lost or the fear your customers experience from having their identity tampered with.
With a monitored burglar alarm system installed, your business benefits are twofold - you prevent people from breaking in and stealing or damaging your merchandise, equipment, and information, and you also maintain your ability to keep your business running smoothly.
Ready to Compare Monitored Alarm Systems Price Quotes?