Keep Your Contacts at Your Fingertips with Contact Management Software
Professionals rely on business contact management software to help them keep tabs on clients or customers. Whether it's dealing with suppliers, communicating with colleagues, or otherwise navigating a fast-paced business world where information is so much a part of an individual's or company's success, contact management software is essential.
Software resources help professionals achieve all sorts of business goals, from higher sales to efficient business processes. Those who carry these helpful "apps" or services often feel better connected and more informed about who they need to contact each day.
Features of business contact management systems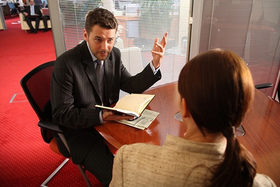 Many kinds of innovative contact management software have easy-to-use designs that display visual and written data to the user on demand. Profiles of business contacts can include a range of identifiers including name and contact information, and even more advanced information such as purchasing histories or summaries of past communications.
Integrating all devices and platforms, even including mobile devices, contact management software:
Provides access to critical relationship details
Manages calendar by tracking calls, meetings and your to-do list
Interacts with the full range of business software and support programs (including Office, Outlook, Google, and even popular social media platforms)
Includes integrated marketing to fine-tune the "when" and "how" to best contact customers
Boosts productivity by enabling your entire organization to work off of a centralized database
These benefits and interfaces can be also tailored to function individually, addressing specific needs across different platforms while bringing together all of what is relevant within a larger business IT architecture.
Evaluating business contact management software
To find the best choices, it's critical to understand what kinds of platforms a software product or service works with. For example, some of these contact management tools are made for integration with MS Outlook or other common e-mail systems.
Others may be built with their own web-delivered interface that's home to all of the captured data that the software presents. To find the right solution for your business, pay particular attention to:
Specific kinds of information that are collected
Security protocols that are used
Ways that these tools can provide for remote access
There are an endless number of ways to put together one of these sophisticated systems. The best software vendors will be able to answer questions about how to start using these high-powered communications tools, how best to integrate them into your current workflow, and how to access them remotely to increase the breadth and scope of your efficiency.
If you'd like to compare solutions among top sellers, fill out our free quote request and we'll connect you with a number of options tailored to your specific business requirements.
Ready to Compare Call Center Software Price Quotes?