Telecom Trends are Shifting Away from 4 Line Phone Systems
Missing a call has increasingly become the cardinal sin of business. That's because, with the wide range of low-cost connectivity available today, anyone can be reachable for their customers from just about any location in the world. And with advances like call forwarding, email, social media, voicemail, and VoIP services, many small to medium-size businesses are discovering they don't really need a 4 line phone system – even when they have four employees or more in the office.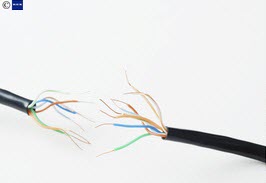 When considering the right phone system for your organization, it's important to keep in mind:
The size of your business (as well as your projected short-term growth)
The call volume you receive (and expect in the foreseeable future)
One of the great things about the continuously-developing telecom industry is that phone services are becoming increasingly affordable for small businesses and large businesses alike. With tools like those mentioned above, you may be able to provide your customers with the same high level of service without a huge phone bank or additional lines (which is where the costs usually start to climb.)
A 4 line phone system - great for some, not necessary for others
When deciding on your phone system, one of the key deciding factors is to determine how many employees you expect to have on the phone at one time. If you own a small business and receive less than 50 calls per day, you can average that out to about six calls per hour. With that average, it's doubtful you'll need more than two lines and would simply be able to rely on call-waiting should another call come in.
Other factors to consider related to the necessity of a 4 line phone system include:
Do you need a dedicated line for each desk?
Do you expect to have a number of people on hold at the same time?
Do you need a line for a physical fax machine?
Finally, we come to price as a deciding factor. If your business is on an exceptionally tight budget with a low call volume, a 4 line phone system may not be worth the investment. Not taking into account calling package prices, a 4 line phone may cost $219 with expansion to support up to 12 phone connections, compared to a $99.99 2 line phone with features like 3-way calling, call forwarding, caller ID, call waiting, voicemail indicator, and more.
But wait - this doesn't include the many accessories that may be needed with a 4 line business phone, like a corded headset at $19.99, a digital cordless headset remote dial pad at $29.95, or even a cordless headset with a 500 foot range at $149.95.
Answering the three questions listed above will help you determine if a 4 line business phone makes the most sense. You can then consider your budget to hone in on what type of multiline phone you can afford, with or without compatible accessories.
Size makes a big difference
It kind of goes without saying, but the larger your group is, the more lines you'll need. After factoring in all your executives, customer service reps, sales people and similar phone-reliant employees, you may find that a 4 line telephone system may actually not be enough.
Depending on the size of your organization, you may need the following number of lines:
2 people or LOW call volume = 2 lines
10 people or MEDIUM call volume = 7 lines
100+ people or HIGH call volume = 20 lines or more
Like stock levels, phone lines should be continuously evaluated for their efficiency and cost-effectiveness. And it can take some fine-tuning to find the right mix. But as a general rule, it's always better to slightly overestimate than underestimate.
If you're having a difficult time determining the right amount of lines to support your growing business, you're certainly not alone. You may worry about over-investing in a large phone system that won't be used by your staff or under-investing in a multiline phone that can't support your call volume.
Today, emerging multiline phone technologies are available to provide business owners with more options than ever before. Some vendors advertise multiline phone systems with corresponding call packages that include multi-office connections, smartphone and tablet call management, and 24/7 customer support - all with minimal setup and system integration required.
You can choose the right business phone based on call volume and staff size. A vendor that provides additional features, like smartphone call routing, is worth considering to get the most out of your telecom investment.
Ready to Compare Business Phone Systems Price Quotes?