Why Adding an ACD Phone System Feature Is Important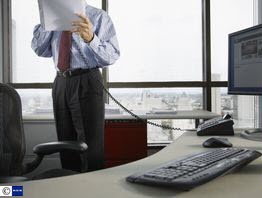 Does your business have extremely high call volumes as a result of customer service and technical support inquiries? If so, a standard phone system without an automatic call distribution (ACD) feature is not going to be very efficient for you. When customers are calling in for assistance, they can get frustrated if they are not taken care of quickly. Being placed on hold for an indeterminate period of time, and then being forwarded to someone who can't help them, loses both customers and money. In these cases, a computerized ACD phone system feature will work wonders for you.
What Does This Feature Do?
An ACD phone system analyzes incoming calls and routes them to the best-qualified person, based on specific instructions given by the system to the caller. This serves to make the customer happier, but also allows the company to help all its customers more efficiently. The system can have hundreds of lines, or only a few. This leads to better overall customer satisfaction, more repeat customers, and higher profits. Other benefits include:
Visual Indicators. The statuses of calls are indicated through changes in colors and blinking function keys, making it easier to track calls.


Custom Greetings. Each queue can have a greeting that is customized to a particular caller or situation.


Responses to Each Unique Queue. Each queue can be set up differently in terms of ring tones, cadences, and sounds for when a caller has been on hold for a certain amount of time.


Redirect Calls. If a caller has been on hold for an excessive amount of time, they can be automatically transferred to a manager or coworker.


Call Tracking. Statistics relating to the performance of individual employees can be seen and analyzed, with categories such as average wait times, transfers, etc.
How ACD Systems Work
In a call center, there are incoming calls coming through consistently. In the past, the call would go directly to an employee, but now they are filtered through an automated voice menu system first, which allows callers to be distributed in linear priority. When an incoming call is received, it recognizes the information the caller has given, and categorizes the caller based on their response to the initial call-screening questions. The system looks for certain instructions that are stored in the system's database that help determine how that particular call should be handled.
With upgraded features for phone systems, there is a different feature and style that can be applied to any business' unique needs. Now, the management of important call configurations within the phone system is done easily and efficiently. No matter what industry or category your business is in, you should consider an ACD phone system upgrade. It will make your business more responsive to customer demands, create a more streamlined and efficient operation and, in the long run, bring new customers to your business.
Ready to Compare Business Phone Systems Price Quotes?