Tips on Buying the Best Hosted Phone System
For businesses looking to make a mark in their industry, hosted phone systems are often a good choice. With the ability to make a business appear larger than it really is, improving customer response, increasing efficiency and boosting the bottom line, it's often a no-brainer.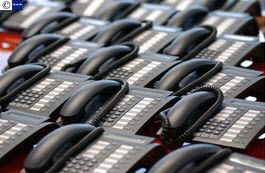 How hosted phone systems work
Frequently compared to private branch exchange (PBX) systems, hosted phone systems are Internet protocol (IP) based, meaning voice communications go over a computer network. Instead of purchasing expensive PBX equipment, a hosted phone system buyer leases some basic equipment and pays a monthly fee to the hosting company.
Generally, the business leasing the phone system will receive a router that connects their local network to the hosting company. In some cases, a private link is provided for added security. When a phone makes a call from inside the business, it is connected via the router to the central hosting office, where most of the heavy lifting is done.
If appropriate, the call is transmitted via voice over Internet protocol (VOIP). If calling a traditional phone, the call is routed to the regular phone network. Beyond basic VoIP, cloud-based VoIP hosted phone systems are now available. A service provider will offer hosted phone technology and features that will be managed by a third-party developer "in the cloud." Cloud-based hosted phone features may include simultaneous multi-phone ringing, find me/follow me call forwarding, and conditional call routing.
For many businesses on the lookout for a user-friendly, cost-effective phone system, a hosted phone makes the most sense. A business interested in transferring to a hosted phone can keep their existing phone number without a transfer fee. Just as importantly, a standard hosted business phone can be used to connect multiple offices and may include convenient features like an auto-receptionist to manage virtual extensions and cut down on call wait time.
Pros and cons of a hosted phone system
The biggest advantages for a business leasing a hosted phone system are:
Cost. Because the equipment is leased, the up-front cost is lower than purchasing new phone hardware. Since the hosting company is responsible for upgrading its technology, this is another expense that is not borne solely by your business.


Scalability. Scalability is advantageous, as in the case of a business suddenly needing more lines. Such a need can typically be handled with little effort by the hosting company.


Features. Added features such as auto attendant, virtual numbers, and follow-me calling (mentioned above) are standard, making a hosted phone system a powerful choice for a small investment.
However, there are some downsides to not having your phone system on-site:
Surrendering control. As all the software and hardware (except for the phone handsets and possibly a router) is housed outside of your office, you won't be able to be as hands-on with it as you would otherwise be. The positive side of this lack of control is that you don't need to have phone system experts on-hand at your company to deal with any problems that come up.


Potential for system upgrades. While most hosting firms deal with network standards such as SIP, if you do choose a host that rolls its own protocol, you may find yourself in need of complete upgrades should you choose another provider.


Loss of network connection. As with the Internet in general, networks can periodically go down. So if your business needs the phone to be available, without fail, every minute of every day, hosted phone systems may not be for you.
Choosing the right dealer
There are many standard features that hosted phone system dealers offer, but there are differences. A big one is whether the host will support your phone system being routed over the Internet instead of over a dedicated phone line. For smaller companies, this can be a huge deal, as an existing Internet connection might be perfectly suitable for smaller phone calling needs, but a dedicated connection could add hundreds of dollars to the monthly cost.
And while some hosts charge a per-seat cost of around $19.99 to $39.99, others base their costs on the length of the contract. The ability to obtain lower costs could be enticing, but if you are unhappy with your choice, the lower cost might not be worth the frustration.
But there is a silver lining. Most hosted phone service providers now offer free trials to all interested customers at an average of 30 days. Before you buy, you can test out a 30 day free trial offer at different package levels, ranging from as little as 1000 toll-free minutes per month up to unlimited calling. Taking advantage of a free trial is highly recommended as it will give you the chance to try before you buy, testing service before signing up for a lengthy contract.
Your decision ultimately comes down to trust. Do you trust your business to an outside company? And if so, do you trust that company to deliver on what it promises? If so, a hosted phone system can do wonders.
Ready to Compare Business Phone Systems Price Quotes?