What to Look for in a Phone System Dealer
When seeking bids for telecommunications equipment, businesses should request proposals from a number of phone system dealers to get a full range of competitive bids. Evaluating competing bids will help you get a handle on what features and capability are really important for your business and how much you'll have to spend. In addition, many phone system dealers also offer services such as maintenance contracts, employee-training services, upgrade services and extended warranties.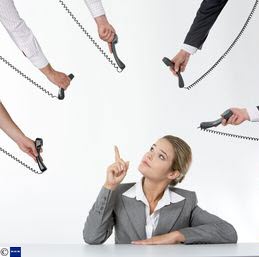 As a result, finding a reliable office phone dealer is as important as the purchase of a business communications system, since the dealer you choose will have a long-term impact on the success of your new phone system.
Finding a phone system dealer
The most important rule of finding a phone system dealer is to consider factors other than price. When you shop for telecommunications equipment strictly by price, you'll often get incomplete proposals. If the dealers that are providing proposals believe that cost is the deciding factor in your phone system purchase, then the focus of their proposals will be on cost rather than satisfying your firm's communication needs. In other words, they're more likely to cut corners just to get the apparent costs down - even if that means they'll have to tack on additional fees later.
Quick tips on making a decision that makes sense for your business in the long term:
Understand Opening Bids Are Incomplete. Before you get a feel for a dealer's packages and your own long-term needs, it is difficult to get an accurate price quote from the opening bid. Keep in mind that dealers are bidding their lowest possible price so as not to scare you away from the negotiating table. Unless you see a great disparity in dealers' prices during the opening round of bids, keep every provider in the running until later stages of the process.


Get Closer to Real Prices after Initial Bids. Following the initial round of bids, phone system suppliers should be prepared to offer you a detailed quote with most aspects of the service included. This second bid will be the one that determines whether your company would benefit from the deal and whether you can afford the service. If you're concerned about the bid meeting the real cost you'll see in your bills, ask for a referral and check on the reliability of a dealer's figures.
First impressions count
Your interactions the dealer's salespeople will offer you an insight into the quality of the company. If the sales force provides helpful information, prompt attention, and is pleasant to work with before the sale, chances are that the company will provide excellent customer service afterward.
During the initial sales meeting, you should expect a phone system dealer to discuss the various business phone systems and features available. The dealer should assess your telecommunications needs to determine the best products to meet those requirements. They should also discuss pricing so they have enough information to provide a complete proposal.
Service agreements
It's important to factor in maintenance and service contracts. Since phone systems are an integral part of daily operations, you'll need a great deal of support after the sales process ends. Determine what maintenance costs, if any, will result from service visits when the system malfunctions. Warranty service should be in place for well after you start using the new service. Issues always arise when you add new equipment packages to an office. Keep the costs low, especially when a dealer should provide full staff training and troubleshooting during implementation.
A phone-system dealer should be able to supply you with both equipment and service proposals during the sales cycle. Start your search with a free request for phone-system price quotes. From there, you'll have the best phone-system dealers in the area to select.
Ready to Compare Business Phone Systems Price Quotes?