Avaya Business Phone Systems
Communication is the hub that keeps the wheels of your business turning. An Avaya business phone system provides the best technology for you to keep in touch with customers, suppliers, and employees. Small to medium-sized businesses have specific needs that can be met by this company's product. Choose from a line of desk phones, attendant consoles, and conference phones.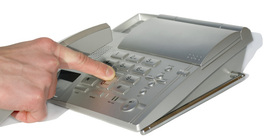 Desk Phones
The company's business phone system includes a number of desk phones. This type of equipment is considered standard for offices. Customers can choose from several models that offer features such as high-resolution displays and USB connectivity to stay connected with the outside world and staff in the office.
Calling features for these phones include message waiting, incoming call displays, and data messaging indicators. The most advanced model offers fixed keys for hands-free, hold, and mute.
This review from a satisfied customer demonstrates what the desk phone can do:
We have about 30 Avaya desk phones in our company. The phones are simple to operate and come with very clear labels. The soft buttons work well and the phones overall are very intuitive. The B/W screen is sharp and displays the information clearly. We have these in the front office, the warehouse, our remote warehouse and at various people's homes. We have no issues with sound quality in any of our locations. They phones stand up well to the rigors of a warehouse environment, but they are not ruggedized. With some configuration settings, they work very well with our VPN appliance giving all of our sales people direct dial to extensions. In general, this is a solid handset that performs well.
-Paul Luciano via Spiceworks.com
Attendant Consoles
The attendant console unit offers high-speed call processing for administrators operating the front desk of a company. Whether your business has one person working in this capacity or several people fielding calls, the system has the capacity to handle incoming calls in sequence. It can also be set up to answer specific types of calls in order of priority.
The six programmable feature keys support up to 20 features including busy verify, call park, auto dial and paging. You can also use the options menu to customize features like contrast adjustment, volume settings, and even choose from up to 15 supported languages.
On-screen indicators are large and easy to read. The name display feature indicates the name and extension of each caller in the system for easy reference.
Conference Phones
Another product available in the Avaya business phone system line is the conference phone. This communication solution offers superior voice quality. Discussions are relayed clearly to the recipient through a high-definition audio band. These phones enhance any conference call to make it more conversational with less awkward pauses and interruptions.
The units can be set up quickly using plug-and-play technology. The system connects to a IP network. Customers simply download software and firmware updates to keep their phones up to date.
Check out this customer review:
After getting frustrated with typical multipurpose phones, I went looking for an excellent speakerphone. This Avaya 2490 Conference Phone gets my highest recommendation. The sound is clear, the ability to carry on a two-way conversation without noticeable pausing or clipping is wonderful, and the system is compact and easy to use. One slight caveat: though the microphones are sensitive enough for everyday use and the speaker can be turned up loud enough to make the party at the other end of the line clearly audible, there is a certain threshold below which you cannot hear the individual at the other end of the line - in this case, a handset can be superior.
-Sky Kruse via Amazon.com
Whether your company has five employees or a few hundred people on the payroll, an Avaya business phone system solution can help make communication a breeze. The company offers several options that can grow in step with your developing business. Consider your current needs and the ways you anticipate your business changing as you move forward. Avaya can serve you at every stage of growth.
Ready to Compare Business Phone Systems Price Quotes?