How Conference Phones Simplify Your Business's Communications
As the business world becomes more global and mobile, conference calls play an increasingly essential role to communicate with partners, vendors, remote workers and global teams. Crystal-clear conversations are a must for enhancing collaboration and productivity for meetings via conference calls.
Today's conference phones deliver superb voice quality, expansive microphone pickup, advanced audio processing, full duplex technology that eliminates interruptive drop-outs, and features that make conference calls seem as natural as being in the same room.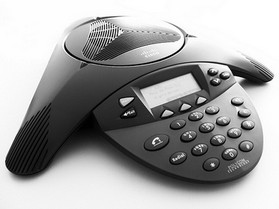 Traditional hold & transfer features for conference phones
The hold feature is standard to place one caller on hold and add people to phone meetings one at a time. The main phone where the call originates can add the other lines and drop calls as well. Using the hold feature, you can add callers quickly for easy collaboration, ensuring that all relevant employees have a say on the issues at hand.
The call transfer option lets your business's employees help clients without having to initiate a new call. You can configure the transfer option to your entire phone system or to specific phones. Use the function to "blind" transfer another party to a new number without them hearing a ring back. A "consultative" transfer connects the caller to a ringing phone or speaks with the third party (perhaps to provide some background information about the caller) before connecting them to the third party.
Features and pricing for one-phone units
Today's conference phones offer a variety of low bandwidth and plug-and-play deployment options. The full duplex transmits receive sound simultaneously to prevent audio clipping. Noise suppression filters cut static background noise and equalizers let you adjust the pitch accordingly. Microphone range expands up to 750 square feet. The frequency response extends from 200-3400 Hz.
Prices for one phone units run from approximately $179-$350.
Features and pricing for two-phone units
With IP, SIP-based IP, and VoIP platforms, the capabilities and price increase. High fidelity audio delivers 160 Hz up to 22kHz to boost productivity and reduce listener fatigue. The robust audio captures deeper lows and higher frequencies of the human voice, turning ordinary conference calls (where one caller dominates and others listen, straining to hear) into clear, interactive conversations. These phones are the next best option to being in the same room having a face-to-face meeting.
Prices for two-phone units range from $800-$1,500.
For the efficiency and growth of your business, investing in a quality conference phone that suits your present and future needs is a worthwhile investment.
Ready to Compare Business Phone Systems Price Quotes?