Digital Isn't Enough: The Demands of the Modern Business Phone System
In the past, it was enough for business phones simply to handle calls. Today, however, companies demand much more from their communication systems. As discussed in Inc. magazine, the field of business phone systems encompasses many areas, but among them the key features to consider are: integration with contact relationship management software, support for Voice over Internet Protocol (VoIP) technologies, digital switchboards to route calls more easily, and in some cases video conferencing support.
The three most important things to keep in mind when shopping for a new business phone system are understanding what your users need, being prepared for constant change to keep up with the rapid pace of technological evolution, and having a trusted adviser who can assist with IT-related questions. Many companies also need an adviser to help them take full advantage of every benefit their technology has to offer.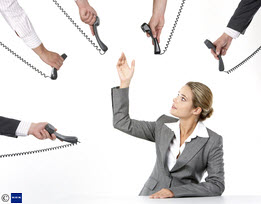 Switching to VoIP can yield major savings
One of the best ways companies can benefit from implementing a modern business phone system is by switching from a traditional phone provider to a VoIP provider, because digital calling can start at as little as $20 a month per line and even $50 a month for each unlimited toll-free line.
In addition to the low calling costs, many providers also provide customers with cloud-based voice mail, voice mail transcription, call logging, and much more.
Software phones: a viable option
Another key consideration when evaluating business phones is whether you even need a traditional phone for every one of your employees. If you have staff who spend most or all of their time in the field rather than in the office, you will want to look for virtual number capabilities. Virtual numbers are a common feature of many business phone systems that allow calls going to a specific number to be forwarded to almost any phone.
By using a mobile application, it is possible for an employee to make business calls using his or her personal phone, at minimal expense to the company.
Making the switch
Although modern business phones have many new features, installing them is not especially difficult. Most business phone systems are designed to be implemented with existing infrastructure. In some cases you might need to hire an expert to add Ethernet cables throughout your building, but even with this additional expense, in the long run modern phone systems pay for themselves by increasing employee productivity and lowering your company's monthly phone bills.
Ready to Compare Business Phone Systems Price Quotes?