Never Miss a Call Again with Call Forwarding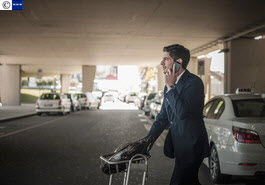 In today's business environment, responsiveness counts. And whether you own a small business or a large multinational, the amount of time it takes for you to return a call could provide the time it takes for your customer to start calling your competitors. But with call forwarding, you can pick up calls from any location - even on the road.
When it comes to modern business tools, call forwarding has quickly become one of the quintessential services for those who depend on customer service for the success of their business. Most major telecom providers - including Cisco, Verizon, Avaya and AT&T - offer call forwarding as part of their respective business telecommunication plan, and often at a rate that's based on your call volume and extremely affordable.
Call forwarding in the cloud
Call forwarding as an extra feature in a phone package has come a long way. Cloud-based business phone systems offer almost effortless communication with virtual call forwarding that differs from traditional PBX call forwarding. A cloud-based call forwarding service will allow you to be constantly available to clients and colleagues; a business phone system can route incoming calls to home, mobile, and/or office numbers.
Each call routing feature can be set with time-based parameters. For example, you can choose to automatically route your calls to your mobile phone in your morning commute. You can then route calls to your home phone after-hours for emergencies and important client queries.
This type of fluid call forwarding is easy to manage through an online business phone system portal. Flexible call routing features will allow you to control forwarding times and dates, send calls to voicemail when unavailable, and even set up a temporary number for times when you travel out of range or internationally.
The standout feature of cloud-based call forwarding is this: detailed and complex call management. While a number of business phone systems will allow you to set call forwarding parameters, call forwarding "in the cloud" will take call management to the next level. Call forwarding settings can program the amount of times a phone will ring before it is forwarded to another device and even schedule the forwarding order to ring other lines sequentially or simultaneously.
The freedom of call forwarding
Call forwarding provides a number of benefits to modern businesses that include:
Enables you to always be available. No matter where you are or what you're doing, your customers can reach you. Call forwarding allows calls to be forwarded to an employee's cell phone, home phone or off-site office space. As long as you or your representative is able to answer a call, you can always be available to speak directly with your customers, addressing urgent issues or providing time-sensitive information.


Avoids voicemail whenever possible. Yes, there are times when voicemail is a necessity (after all, you have to sleep sometime). But for every call that rolls to voicemail during business hours, you run the risk of losing that call, with the caller opting instead to keep calling around until they find a live person. Business call forwarding can be used to attempt multiple numbers and if call forwarding fails to find the correct employee, your rep can leave personal contact information on the last number to ensure that someone will be available to address concerns in an emergency.


Frees you from being chained to the desk. Call forwarding provides the freedom of mobility, enabling you to travel or just step away from your desk for a couple hours without having to worry about missing important calls. Ever tempted to do business from the comforts of your local Starbucks? Call forwarding makes that possible.


Increase the perceived size of your organization. Call forwarding allows you to assign multiple numbers to your business and have each of them ring to one central location. So for example, if you want to provide a toll free number to your customers, a call forwarding service can have that number ring to a main switchboard or receptionist.


Allows for call scheduling. If you never know when you're going to be at your desk, you can use call forward scheduling to your advantage. Many providers will allow you to forward calls to up to nine different locations after three or more rings; you can manage your call routing schedule online down to the hour for more efficient call management.
Today, business call forwarding may be known by another name: Find Me/Follow Me calling. This call forwarding technology still allows you to route incoming phone calls to different phone lines. As a result, you can receive incoming calls to a business phone on any external line you choose; you can also determine the ringing sequence, as outlined in cloud-based call forwarding above.
Before you make a final decision in a business phone, consider intelligent call routing versus standard call forwarding. Find Me/Follow Me call forwarding will allow you to receive business calls virtually anywhere. You can give clients and colleagues one office number that connects to your mobile, home, and voicemail lines. Conducting "business without borders" in this manner makes the most financial sense and helps you to maximize your call forwarding features.
Ready to Compare Business Phone Systems Price Quotes?