Streamline Your Communications With Call Routing Software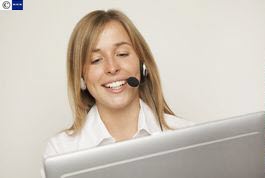 There are few images that transport you back to the 1950s quicker than a bank of operators, plugging and unplugging their extensions while speaking into a headset. In the 60 years that have passed since then, there have been enough developments within the telecommunications industry to fill a volume of history books. But few have been more notable than call routing software.
What is call routing software?
Call routing software has become increasingly popular among medium to large-size organizations due to the efficiency and cost-effectiveness of the way it handles your company's calls, eliminating the need for a centralized receptionist and saving you unnecessary labor costs during periods of low call volume.
Check out some of these standout call routing features that could change the way you do business:
Auto attendant. Also known as call routing or an automatic call distributor, the software runs interference between a virtual switchboard and the extensions within your organization, passing calls to the appropriate person based on a response (push-button or verbal) from the caller.


Intelligent load balancing. Call routing rules within the software are entirely configurable and can be used to balance call volume and prevent overflow. Intelligent load balancing means that calls will be routed to the best possible source to circumvent unnecessary transfers or delays.


Real-time call management. Supervisors can use software to manage employees, work groups, customer interactions, and call routes in real-time. Routing changes can be made on-the-fly to promote a higher level of customer communication.


Detailed call scheduling. Some software programs are designed to route calls to specific locations set by time of day or day of the week. This routing feature will guarantee that a representative or employee is always available to meet customer demand.


Custom audio messages. By collecting useful information from a caller before a call is transferred to an internal extension, call routing software can often handle the caller's request without a transfer, answering inquires about business hours, address, and other standard requests with recorded information. Personalized audio messages will be recorded for this purpose to expedite accurate routing.
The best call routing software is web-based
Selecting the call routing software that's right for your organization isn't actually all that complex. Most services provide standard features and are willing to work with the specific needs of your organization to ensure the cost-effectiveness of the solution. In addition, many are cloud-based, ensuring continuous uptime even during local power outages and other natural disasters.
Prices vary depending on the size of your organization and call volume. Some providers will issue a quote on their services while others offer package deals that include monthly fees for a varying range of services, often allowing you to pick and choose a tailor-made plan for your company.
When shopping around, three of the most popular you may want to consider are:
Vocalocity - Offering call routing software that utilizes call groups to create virtual departments within a company. Call groups can be set to route inbound calls to specific extensions; an incoming call can ring all group extensions simultaneously to ensure it is not missed. Call groups can be conveniently managed through a web-based portal to organize virtual departments within a PBX phone system. Call group software starts at $4.99 per month.
Avaya - Call Center Elite call routing software is most popularly used in call centers and large corporate settings. The software features Automatic Call Distribution to improve routing capabilities and individual agent productivity. This virtual call routing software is easily scalable to manage multiple call centers in different locations; it is compatible with traditional circuit-switched, H.323, and SIP networks. Avaya call routing software price quotes are available through the official website.


Star2Star - Communications software features flexible call routing to redirect incoming calls to certain menus, ring groups, conference calls, queues, or extensions. The software will support separate phone numbers for each department in a company. Another related feature is Find Me/Follow Me call forwarding that can route inbound calls to home, office, and cell numbers, either sequentially or simultaneously. Star2Star estimates that their software can save the average business 50% on telecommunication costs; detailed price quotes are only available through Star2Star online dealers.
The call routing software you choose will depend directly on the size and needs of your business. As you shop leading providers and research competitive features, don't overlook what is now called "intelligent" call routing. Intelligent routing will incorporate the latest technology to better direct incoming calls. Most intelligent routing software will include a user-friendly online portal, where you can monitor call frequency, activity, and volume in real-time.
Ready to Compare Business Phone Systems Price Quotes?