Cisco Phone Systems Meet Small Businesses' Needs
The right small business phone system can give your employees the tools they need to be more efficient. Does your workforce need easy access to rich-media conferencing tools? Do workers need one phone number that simultaneously rings on multiple devices? It's important to understand which tools your workforce needs, so you can choose wisely among the many small business phone systems available.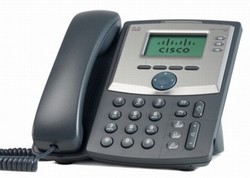 Cisco offers the following features and capabilities:
Videoconferencing
Mobile softphones, for using a computer as a phone
Automated attendant
Paging and intercom
Presence technology - the ability to quickly identify who within your organization is available at any given moment, as well as the best way to reach them
Wireless IP phones, enabling workers to access data and be easily reachable, even as they roam about a sales floor, warehouse, or other location
Integration with a customer relationship management (CRM) system
Unified messaging, with notifications by e-mail, text message, or phone
For voice and conferencing, compare and contrast the following IP phone systems: SPA 300 Series, the SPA 500 Series, and the Unified 7900 Phones.
The Cisco Small Business SPA 300 Series IP Phones offer comprehensive features in a basic IP phone:
Wideband audio for exceptional voice clarity and enhanced speaker quality
Monochrome display (SPA303) for ease of use, aesthetics, and on-screen applications
Support for hosted IP telephony environments or an IP private branch exchange (PBX)
Easy installation and highly secure remote provisioning, and web-based configuration
Remain in touch with added freedom for in-campus and work-at-home employees with the SPA302D Multi-Line DECT Handset.
Cost ranges from $68-$113 per phone
Cisco SPA 500 Series IP Phones are affordably priced and reliable. Intuitive and easy-to-use, they offer excellent user experience, with wideband audio to connect employees and offices, application support to enhance productivity, and encryption for enhanced security. More features include:
Wideband audio for voice clarity and enhanced speaker quality
Monochrome backlit display for ease of use, aesthetics, and onscreen applications
Support for Bluetooth
Support for up to two SPA 500S or SPA500DS expansion modules
Cost ranges from $114-$205 per phone
Cisco Unified IP Phone 7900 Series take full advantage of converged voice and data networks while retaining the convenience and ease-of-use you expect from a business phone. The 7900 Series provides:
IP phones with color liquid crystal display (LCD), including dynamic soft keys for call features and functions
Support for information services, including Extensible Markup Language (XML) capabilities to extend IP phone systems
The capability to customize XML-based services to let users access a variety of information, such as stock quotes, employee directories, and web content
On-campus mobility using voice over wireless LAN with the Cisco Unified Wireless IP Phone 7925G to extend advanced unified communications capabilities for mobile workers.
Cost ranges $200-$999 per phone
Whether you are just starting out or looking to expand, Cisco phone systems provide optimal phone solutions for your small business.
Ready to Compare Business Phone Systems Price Quotes?