Best Phone System Features for Midsize Companies
A phone system for midsize companies is a standard piece of equipment. What kinds of features should be on your "must have" list? While there are some features that you can expect to find on a standard issue phone for business use, others would put the phone system on the short list for more serious consideration.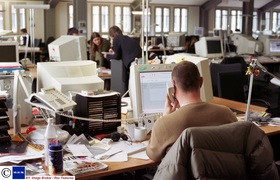 Standard features in a business phone system
The way companies do business has evolved over the years and technology has changed right along with them. The list of features available in a phone system for medium-sized businesses has evolved to include ones that would have been available only to larger corporations in previous systems. The cost of acquiring this updated technology has also decreased over time, which is an advantage to organizations with more than 10 employees but under 100. A system for a business of this size should typically include the following features:
Voice mail with private mailboxes for each user
Ability to transfer calls to other phones
Music on-hold feature
Automated attendant when the receptionist is not available to answer calls personally
Wired or wireless headset for receptionist
System with integrated cordless phones for convenience
Premium features in a phone system for midsize companies
While a little more than add-ons, premium features often pay for themselves in the ability to add to an existing phone system in such a way that your company's communications with the outside world can be robust. These services and/or options should be thought of as the next generation of telephonic communication available today.
Here are a few "advanced features" that might enhance your phone system:
The ability to switch from a desk set phone to a cordless handset during a call seems like a natural, but not all phone systems offer this feature. Many will drop the call leaving your client and your company's representative with gap in communication.


IP phones are able to communicate with your network either directly (wired connection) or wirelessly (through use of in-house WiFi or an AP solution). Because an IP phone system is on a network, one can access the network, thus their phone, remotely. This means being able to forward one's phone to another number or extension, set up your voice mail inbox, or even retrieve voice mail from a remote PC.


Using your telephone system as a public address (PA) system is another outstanding option offered by a variety of phone systems. Coupled with the ability to use an intercom feature for station to station (p2p), conferencing is absolutely the way to cover high level to specific inter-office communication needs.


A final thought would be the ability to add voicemail that can be delivered to user as an email with audio file as an attachment. These are great time savers and allow those who are travelling or working outside of the office to get their messages without dialing into the phone system.
It's important to ask potential sellers what type of support you can expect you make a purchase; whether the company provides in-house or if the customer service representatives work in a call center located off-site.
Ideally, the company will offer support to its customers on a 24/7 basis, but potential buyers should not assume they will have access to this level of service. They should specifically ask about hours when customer support is available and how long they will have to wait for a reply if they need help during "off" hours. All of these details can help a business owner select the right phone system for midsize companies that will have the best combination of features at the right price.
Ready to Compare Business Phone Systems Price Quotes?