Time to Update Your Phone System for Your Small Business? Look to Open Source
If you're looking for a telecommunications system or phone network for your small business, you may want to consider an open source phone system. Open source software could be the solution for you if you have a tight budget, don't want to pay for up-front installation costs or licenses, and are looking for a quick and efficient way to get started.
Here are three things you should know about using open source software for your business phone system.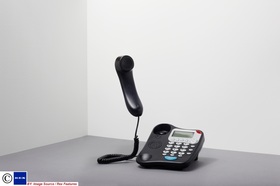 Understanding open source
Open source software is a type of software that must be distributed freely and without royalties. Its source code and the works derived from it must be available as well. Open source software is a practical, easy, and cost-effective solution for small businesses looking for high-quality computer programs and phone systems because it is essentially free and available to anyone.
Of course, you may still need to factor in the costs of minimal hardware and the training and hiring of technical support staff into your budget as you would with any software, but an open source phone system lets you avoid annual service contracts.
Why open source software is a better solution
This type of phone system is profitable for your business because it's a more efficient method of creating systems, through which programmers work cooperatively and share code freely. With open source, you won't need to continually buy new licenses or upgrades, pay a large amount for initial installation costs, and avoid violating any license or property rules.
This makes it less expensive to use, and your business will see a greater return on profit.
What to look for in open source software
The cost of operating a telecommunications network is much more expensive than the cost of installation and equipment for a phone system that's open source. Find an open source business phone system that keeps operational costs, including network support and maintenance, on the lower side.
Since open source software has been around for a long time, you may want to find a system that is somewhat well-established, as new programs are constantly popping up. The program you choose should be compatible with your business's current software or operating system.
Security risk assessment
The security risks are minimal. Typically, for an IP phone solution, the firewall you have in place should work fine in providing a blanket of security for your phone system. One thing to keep in mind when searching for open source telephone software is how your network is currently configured. How your software interfaces with your existing hardware is important and shortcuts in firewall management (such as simply "white listing all ports" on a switch) can have dire consequences network wide which will affect all your networked systems.
The downside
There are two downsides to open source software solutions; code ownership and added stress of managing developers. Both issues can be overcome however.
While any coding or application you do based on open source are absolutely free, that does not mean you get them for nothing. Advances made by your IT team to an open source solution should be shared. If you check the fine print, in most cases you agree to participate in the open source community; meaning share the work you've put into improving and customizing the solution. This means after you have done the work, you will not have exclusivity.
The other potential pitfall is the addition to IT personnel. If you already have qualified individuals on staff, then you might have to figure out where you will lose productivity in other areas when developing your open source solution; this can be a tough opportunity cost. Another avenue is to hire independent contractors and have these individuals do the work for you. This should not disrupt or dilute your current IT solution and requires only a one time monetary commitment.
Just because open source software is more cost-effective doesn't mean it's not as high quality as an expensive business phone system. Nor is it a "simple fix". Using an open source phone system is an efficient and inexpensive solution for any small business. Just be sure to leave a little room in your budget for operating costs and support.
Ready to Compare Business Phone Systems Price Quotes?