PBX Features That Can Improve Your Customers' Experiences
A PBX, or private branch exchange telephone network, can help improve your customer service levels and increase customer satisfaction. Instead of getting a message or a busy signal, the PBX switches the customer through to someone who can help him or her. Other functions can help improve customer service as well, such as a PBX feature that keeps track of the calls and lets you analyze how well your customer service is performing.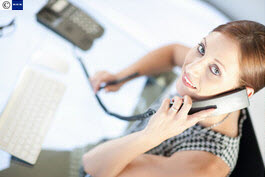 PBX basics
A PBX system switches telephone lines to match callers with intended recipients. Because every employee is not using his or her telephone all the time, a PBX switches through company telephones to a limited number of outside telephone lines. When a call comes in, callers can select a specific person or department to receive their calls. If the caller selects a department, the PBX switches him through to a free telephone or puts him on hold until a telephone becomes free. In recent years, more and more companies are installing the components necessary for these systems.
Fewer busy signals
PBX services are especially effective for customer service operations. Instead of calling a particular number and possibly getting a busy signal, the customer reaches a free telephone in the right department. When a customer calls a dedicated customer service number, the PBX can switch the call through to a free representative. If all representatives are busy, the caller may have to wait on hold but will eventually be connected. If the customer calls a general company number, the PBX can play a message asking the customer to select the department he or she wants. This PBX feature reduces busy signals and improves customer service levels.
Call management
The PBX can track all the data associated with a call. Analyzing the data lets you adjust your operations for maximum efficiency and the best customer outcomes. The PBX will tell you how many callers were put on hold, how long they waited, and how long their calls took after they were connected. A positive customer outcome minimizes time on hold and time taken to solve the problem. Since you have access to both variables for all calls, you can manage personnel to minimize the time spent on hold and establish training programs to reduce the time spent per call in solving customer problems.
Pre-recorded solutions
If many of your customer service calls deal with the same, easy-to-solve problem, a pre-recorded message may be an effective solution. The customer hears a message giving him the option of speaking with a customer service representative or listening to a message detailing a solution to the problem. When customer calls peak because of a particular issue, you can address the problem with a message during the resulting longer hold times, and help many of the customers while they are on hold.
Even when there are problems, successful companies make the solution to the problem a positive customer experience. A well-designed PBX is an effective tool in achieving that goal.
Ready to Compare Business Phone Systems Price Quotes?