Which PBX Phone System Is Right for Your Office?
Providing customers hassle-free access to support is important to any business. A private branch exchange (PBX) system provides your customers with access to relevant business departments and immediate responses. However, you now have two options, the standard PBX system or a virtual PBX system.
We'll help you decide which one you should choose below: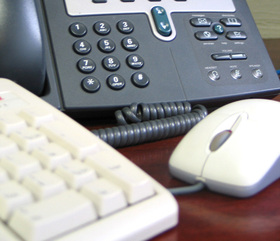 Who might benefit from a virtual service
An Internet-based PBX system gives your business the appearance of a well-established firm. Small start-up businesses can benefit from this with very little upfront investment. For the solo entrepreneur who wants to give the impression of a larger organization, the virtual system can offer that sense of a fully staffed office when calls are received.
In a business that operates from multiple sites, with employees and team members operating from remote locations, the virtual service is ideal for keeping everyone connected as if they were in the same office. Outside callers wouldn't have any sense of the geographical distance when being transferred from one team member to another.
On the downside, choosing which virtual PBX service to use can be quite a challenge. Each company operates differently and provides different service tiers at different prices. Typically, there are three different pricing plans associated with a virtual PBX solution:
By the minute charges. These charges can range from $.01 a minute to $.05 a minute.
Unlimited, but licensed solutions means the business owner can purchase a license or licensing pack giving a limited number of employees as much access as they need. These licenses can cost from $100-$500 annually per user.
Pay monthly for unlimited usage. These plans cost between $20-$40 a month per user.
Benefits of a standard PBX system
If automatic call distribution is a big priority and heavily used by your business, then a standard PBX will be perfect for you. When a company has a high volume of calls, the initial investment costs in the system are easily offset by the lower calling costs related to using a standard system versus the per-minute charges associated with a virtual system.
For customizable functions, the standard PBX has more options than a virtual system. If you want the flexibility of custom programming specific to your needs, you'll find a virtual system quite limiting.
For the medium to large business, the reliability, functionality and overall costs of a standard system will make it the better choice.
Typical pricing to install a 4 line PBX is around $500, but costs increase as more lines are added. There is also the question of the phones themselves. IP phones will not work on an analogue PBX system, so some of the functionality associated with IP phones (MOH, paging, and voicemail) will still have to be added to your analogue system, thus increasing the price even further.
Standard and virtual systems features include:
Fax
Voice mail
Automated greetings
Conference calling
Dialing menus
Voice mail
Call audits
Automatic call distribution (ACD)
Teleconferencing
As you can see, there are benefits to both types of systems depending on the size and needs of your business. Make sure you weigh up the benefits of both systems, and compare prices and services, before making your decision.
Ready to Compare Business Phone Systems Price Quotes?