Today's Biggest Trends in Phone Systems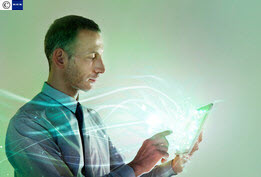 Buying a new business phone system can be an exercise in sorting through acronyms and learning new technologies. With the growing diversity in types of services small businesses have access to, it can be tough to keep the big picture for your organization in mind.
To help you out, here is a summary of the biggest phone system trends in telecommunications in 2013 and beyond.
The cloud expands
Hosted phone systems that run in remote data centers provide all the features of a traditional PBX through a broadband connection. A few years ago, telecom experts predicted that market would grow tremendously, especially in small and mid-sized businesses — a prediction that has come true, albeit with some caveats.
Small-to-medium-sized businesses are definitely moving toward the fixed monthly fee for hosted phone systems, which provide regular upgrades and service. However, the market growth is not quite as overwhelming as previously predicted. This could be because people have costly equipment on the premises already or don't want to incur the initial loss in time for training and money to set up a new system.
Also, there is still a level of mysticism with the cloud that may cause confusion or a lack of trust in cloud systems. According to a recent study, reliability and complexity are two of the biggest issues businesses cite for cloud computing. Security is still a major risk for businesses. In fact, security is predicted to transcend the specialist niche area to become a mainstream IT essential. As security risks for hosted systems decrease, businesses are beginning to trust new systems.
In the next few years, small businesses can expect phone system trends that incorporate a way to transition from current systems or continue to use part of existing equipment with a steady increase and shift from virtual private networks to public, private, and hybrid clouds.
Mobility and flexibility
First, call centers can now include cell phones to its offerings. In a small business setting, the flexibility to monitor or receive calls while accessing the company system, could prove to be extremely beneficial. For example, a traveling small business owner could monitor and respond to client issues with the same access he or she would have from the office.
With the growing amount of apps, mobile phone systems could arguably be the most important new business phone trend. The top four app stores, Google, Apple, Blackberry, and Windows, hit 13. 4 billion downloads in the first quarter of 2013, with additional increases predicted for 2014. With all this flexibility, this could really be the new age of the small business owner.
Ready to Compare Business Phone Systems Price Quotes?