Essentials for Telephone Equipment Purchases
Phone technology for business has made incredible advances in recent years. As you browse for telephone equipment, here's a look at some ways to get the right phone system for your business, regardless of its size.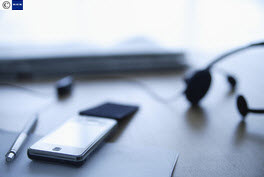 Know your business calling needs
Take stock of what your business requires of the phone equipment. For example, the phones need to be able to handle your average call volume, a sum likely available on your current phone bills. For a large-volume business, an automatic attendant, or IVR feature is helpful. It directs calls, greets callers with a message, and provides menu choices. The attendant creates a high-quality customer service experience and shortens call wait times.
Other needs require asking a few key questions, such as: How many simultaneous outgoing calls occur on the phone system? How many endpoints the system must support? If you have multiple offices or remote employees, multi-line telephones connect them all within one system.
A virtual solution might also be the answer. Typically, a virtual phone system will allow those who work remotely or in multiple locations to communicate much more efficiently than they would otherwise. Additionally, for all intents and purposes, the appearance of being "in the office" or having a unified office, thus showing your organization's clout.
These can be subscription services for about $20 a month per user, by the minute, or even annual licensed for between $200-$1000 a user per year. These solutions fit seamlessly with VoIP systems.
Planning ahead
While your business may manage calls adequately today, think about where the organization will be in the next two to three years. Choose telephone equipment that meets your needs now and in the near future, too; your business will likely save money and time. A voicemail-to-email function that is useful now, for example, will probably still be a time-saver for your growing business two years later.
Of course, don't feel that you need to buy all the equipment you will ever need all at once. Many systems can be upgraded as your business needs change. Add-on features to buy later may include video conferencing and call recording.
Equipment and services available
The type of equipment one needs for an IP, or VoIP telephone solution can vary depending on size and functions within your business. Generally speaking though, count on spending money on the basic components.
High Speed Internet Service - No virtual or IP service can hope to function on anything less than high speed internet. The more bandwidth a business can allocate to their phone system, the fewer problems they will have. While a T1 line is not needed (systems can run off DSL or cable), if it is an option, T1 is recommended. Do not be sold on the idea that satellite internet will work for your phone system. These have very fast download speeds, but upload in chunks and on dial-up. Since VoIP needs both download and upload speeds to be fast, this will not work for your system.
Switches - You will need to think about a network switch solution. While a VoIP system can run independently of a switch, this type of networking avoidance is pointless as eventually, you will want to integrate your voice solution with your data capability.
Voice Server - The voice server is what manages calls, converts voice to digital and back again, and operates your phone's various options. A mid-level IP phone server will run between $2,000-$5,000 depending on brand and quality. Less expensive, offsite services are available as well. The downside to using these services is a loss of instant control over your own phone serve, meaning you will have to call or email the service to do things like change extensions or run call volume reports. If you are thinking about an outsourced solution, here are some questions you should be asking:
Within what time frame will you respond to service calls?
How long are equipment warranties?
Do you offer software and hardware updates as technology changes?
Will you handle set-up, and how long does it take?
Infrastructure - Infrastructure refers to not only the wiring in your business, but also where and how your back-end network equipment is installed. You will need to make sure you have space for the patch panels, switches and servers you will need to be installing. Typically, patch panels will cost around $50, a data rack can cost between $250-$1,000 depending on what you need to install.
Phones - Phones are at the center of it all, correct? IP phones can cost between $65 and $200 per unit. For those wishing to slowly migrate from analogue to digital, filters can be used for an analogue phone. These filters eliminate the digital portion of the signal that is often heard when one plugs an analogue phone into a digital phone system. This means that one can add a few phones at a time. Be warned, an analogue phone will not have the functionality of an IP phone.
Shop around
Now that you know what basic components you will need installed or upgraded, it is time to think about finding the right dealer. It's vital to compare dealers, regardless of your business size. By asking the above questions, you learn the reliability and customer service levels that vendors can provide your company.
Shopping around also helps you get a feel for price ranges. Many suppliers also offer business-to-business discounts. By looking around, you also see the variety of equipment available. It is wise to ask prospective dealers for references before signing a contract. Taking the time to follow these tips now can save you headaches later, as well as monetary expenses.
Ready to Compare Business Phone Systems Price Quotes?