Basics of Video Phones and Price Points for Businesses
Video phones are a leading business trend. The phones connect to the Internet via voice over Internet protocol (VoIP). With these phones, employees can collaborate across satellite offices in other locales without incurring travel costs.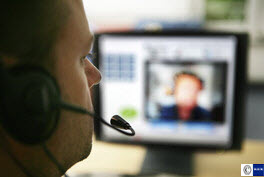 As a tool, they're excellent for team projects and meetings, as many people can participate. The phones save travel time and expenses, which increases employee productivity and lowers company costs.
The face-to-face interaction is a key benefit. After all, an interaction that combines both visual and audio is more effective than audio alone. By seeing the other callers, you can pick up on visual cues, such as body language. These interactions are memorable and high-quality for clients and employees.
Budgetary concerns
With recent advances of technology the prices on video phones has dropped, but can still be price prohibitive. While some models can cost as little as $200, at times quality can be suspect. More expensive models can cost around $3,000. The difference between the low-cost and higher-end models is not just in the bells and whistles either.
Low end video phones might require a constant, and bright light source to get the best picture possible. For those who are already in brightly lit office space, this might not be a problem. Higher end quality phones will adjust better to low light situations. And then, yes, there are the bells and whistles. Split screen modes for teleconferencing, mobility and wireless solutions, and hold functions are but a few "extras" that are offered.
Model reviews
To give you a better of idea of what is available on the market and help you begin your research, here are a couple of models with function and cost reviews. Keep in mind there are many models with various functions. Reading as many reviews as possible and inquiring with a dealer is always recommended.
Grandstream, GXV3140
This multi-language phone features a 4.3-inch digital color LCD display, tiltable CMOS camera, and full-duplex speakerphone, with advanced acoustic echo canceler and privacy shutter. It's Skype-certified and works on many other web applications. Multimedia uses range from a web browser to streaming music and providing RSS feeds of weather, news, or stocks. The cost averages $150.
Yealink, VP530
This HD-voice phone features a 7-inch LCD touchscreen, rotatable CMOS camera and full-duplex speakerphone. Enjoy three-way video conferencing and four VoIP accounts. Call features include auto answer, message-waiting indicator, intercom, music on hold, and voicemail. Customize your user experience with ringtone selection, wallpaper, and more. The cost is about $400.
Polycom, VVX1500 D
Enjoy voice, video, and applications with a single touch. An adjustable camera angle and base provides a personalized feel as you use the six-line HD-voice phone. Get local three-way audio conferencing and features including voicemail, a "do not disturb" function, call transfer, and call time. It has smart motion detection and turns to power-safe mode when left unattended for some time. The included software is Polycom Productivity Suite, Polycom My Info Portal, and Digital Photo Frame. The average price is $1,200.
While video phones might not be useful for every business, they are becoming more widely used for obvious reasons. For marketing purposes, they add an air of personalization. For meetings and presentations, a video conference can really make your business look impressive. Whatever your need or use for a video phone might be, remember to look for the best deal that meets your minimum requirements.
Ready to Compare Business Phone Systems Price Quotes?