Woodworking Finishing: Quality through Consistency
A uniform appearance is essential from batch to batch, especially in woodworking applications where a variety of similar components may be assembled to produce a finished product. A spray paint booth provides this level of quality, easily replicating results for everything from toys and desks to pianos and fine furniture, with woodworking finishing supplies that include:
NGR dye stains and sealers
Nitrocellulose lacquers
Catalyzed lacquers and varnishes
Primers

Sealants
Glazing
Urethane
Texturing
Within this specialized subset, there are a couple different options, namely:
Open face spray booths with vented exhaust
Enclosed light industrial models that feature a variety of circulating airflow systems
Gail O'Rourke, a cabinetmaker, kitchen designer, and project manager from White Wood Kitchens in Sandwich, MA offered important insight to using either option.
"It's important to note that the installation of spray booths is regulated by the local codes of the Building Department, and will require full HVAC and sometimes building permits before installation. Keep in mind the possibility of additional insurances based on location, and the operating costs of replacing dirty air filters so they don't impact the quality or performance of the booth."
Gail provided BuyerZone with this examples of a kitchen finished with a large enclosed spray booth. As well as the example below of kitchen cabinets finished with an open face booth.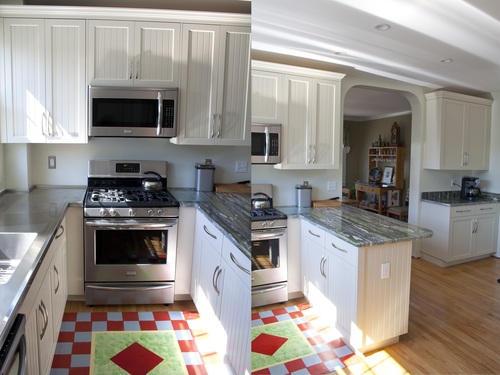 Here's how the two woodworking options compare.
This is the most common type of woodworking spray booth found among small shops and individual craftsmen as it fits easily into the corner of just about any garage, back room, or production facility. Produced by leading manufacturers like Tools USA and Eagle Equipment, the open face design also comes in two different configurations: open floor and bench style.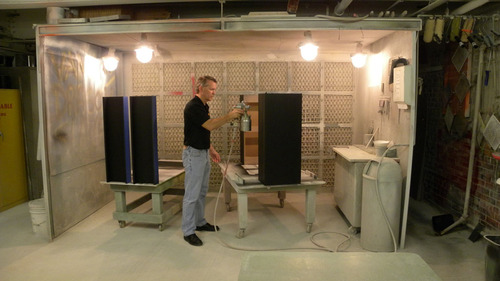 While the open floor configuration provides the greatest amount of available work space for larger items, the bench style is ideal for smaller, time-consuming items that require extra detail. It's also worth noting that most bench style booths feature a standard bench height of about 2' 10" to facilitate production with workers either standing or sitting.
Depending on your specific application, the type and size you need will differ. A range with both options includes:
Open Face Woodworking Booth Options
Type
Working Dimensions (W-H-L)
Exterior Dimensions (W-H-L)
4-Tube Fluorescent Light Fixtures
Exhaust Filters (20" x 24")
Estimated Cost
Bench (Small)
3' x 4' 2" x 3' 6"
3' 4" x 7' 2" x 3' 8"
Optional
2
$1,800 - $3,000
Bench (Large)
8' x 4' x 3'
8' 4" x 7' 2" x 5' 2"
Optional
2
$2,700 - $4,700
Open Face (Small)
8' x 12' x 5'
8' 4" x 12' 2" x 8' 8"
1
24
$4,700
Open Face (Medium)
14' x 12' x 5'
14' 4" x 12' 8" x 9'
2
42
$6,700
Open Face (Large)
20' x 10' x 5'
20' 4" x 10' 8" x 9'
4
50
$9,000
Purchasing recommendation (small objects): For detailed applications that entail the carving or crafting of small components or products like bird houses, shelving, and ornate jewelry or cigar boxes, the bench style open face booth is your best option. Most open face bench booths will range between 2 feet to 4 feet in depth. So for small woodworking projects the ideal model is one that offers at least 6 feet in width with a bench that's positioned between 3 feet to 4 feet for optimal comfort. Ventilation requires a fan that measure at least 12 inches in diameter and is capable of 3/4 hp to 1 hp.


Purchasing recommendation (large objects): For the construction of furniture, cabinetry, trim carpentry, and general contracting purposes, most furniture manufacturers require an open face booth with a minimum of 8 feet to 10 feet in width and a height of 7 feet to 10 feet depending on the size of the item and the elbow room necessary to complete the job safely and efficiently. To provide proper ventilation and filtration for a booth this size, the fan should be at least 24 inches in diameter and have an output of 1.5 hp to 2 hp.
Substantially larger than their open face cousins, the enclosed variety requires a little more forethought when it comes to your woodworking shop plans. Depending on the type you select, light industrial booths for woodworking usually feature either a cross flow or semi-downdraft airflow design, as these two methods have been shown to consistently deliver results that are free from flaws, dust, and other airborne particles - making them ideal for woodworking finishing.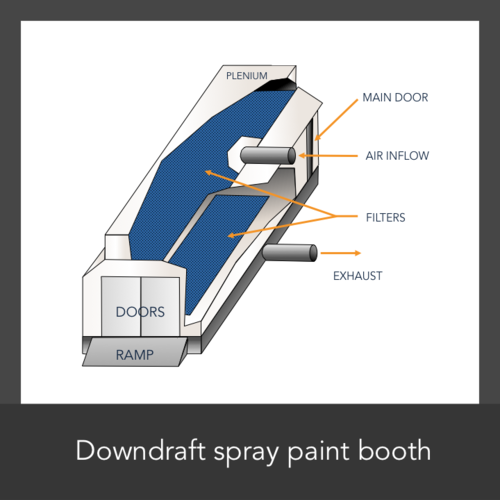 In short, cross draft airflow draws air from filters installed within the product entry doors. From there, the air is channeled through the length of the booth and exits through an exhaust chamber. Semi-downdraft airflow pulls air through the product entry door too but also draws from filters in the ceiling as well. This provides both a higher degree of over spray control and also cuts down on the amount of prep required. Both options are more economical than full downdraft systems as their design eliminates the need for costly exhaust pits.
You can expect models that range within the following configurations:
Light Industrial Woodworking Booth Options
Type
Working Dimensions (W-H-L)
Exterior Dimensions (W-H-L)
Entrance Doors (H-W)
4-Tube Fluorescent Light Fixtures
Estimated Cost
Cross flow
12' 9&" x 8' 4" x 20' 1"
13' x 8' 10" x 23' 4"
8' x 10'
6
$5,500
Cross flow
14' x 9" x 26' 6"
14' 3" x 9' 2" x 26' 9"
9' x 10'
10
$6,500
Light Duty Semi-Downdraft
12' 9" x 8' 4" x 20' 1"
13' x 10' 7" x 23' 4"
10' x 8' 4"
6
$6,700 - $24,000
Light Duty Semi-Downdraft
14' x 9" x 26' 7"
14' 3" x 11' 2" x 26' 10"
9' x 10'
10
$7,900 - $24,000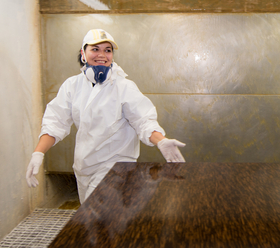 For woodworking finishing that includes stains, sealers, and fillers, as well as topcoats like nitrocellulose or catalyzed lacquer, the main choice centers on speed and productivity requirements. Two popular examples include:
Purchase recommendation (low production): Low production batches with standard coatings can easily complete most jobs within a cross flow system, saving money and considerable floor space. The minimum configuration should include entrance doors with at least 8 feet to 10 feet in clearance and an internal work area of about 13 feet wide by 20 feet deep. Cross flow booths feature a back wall that acts as the plenum. For this application, make sure the booth includes at least 16 individual filters that measure around 20 inches x 20 inches.


Purchase recommendation (high production): For high production lines and conveyor systems, a light duty semi downdraft spray booth is the best option. The semi-downdraft airflow design not only elevates the level of finishing coverage, it also enables you to integrate heat into the finishing process through an air makeup unit (AMU), further reducing time requirements and cost for each batch. Entry doors should allow at least 9 feet to 10 feet of clearance for truck and pallets. The work area should allow at least 14 feet in width and 26 feet in length. If coupled with an AMU, you'll want a 3-phase 10 hp model at minimum. Many high production applications also upgrade their booths with drive-through doors to simplify and expedite production.
Ready to Compare Spray Paint Booths Price Quotes?