Comparing Attendance Software Packages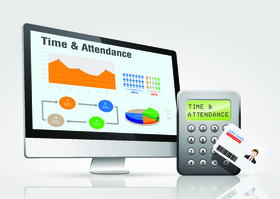 Thanks to attendance software packages, tracking the hours your employees spend on the job isn't the tedious chore that it once was. With plenty of features and functions, time and attendance programs help you keep labor costs down and increase staff productivity through three key functionalities that include:
Data sharing: Attendance management software shares employee information between other programs such as payroll and security. The HR staff also can export this data to spreadsheets and other office software to create detailed reports.


Attendance database: The software allows you to create a centralized database without manually entering the time and attendance information. Instead of flipping through paper records to correct mistakes, you can quickly scan the database for errors and make the necessary changes.


Compliance: Government regulations regarding employment are updated on a regular basis and it's important to stay compliant with the latest rules. With the help of regular updates provided by the manufacturer, the program will use the latest information about such items as the Federal Minimum Wage and the Family& Medical Leave Act (FMLA).
Cost-saving features
Each program operates a little differently. So the platform you select should represent the combination of features that will most accurately align with your business goals and the way you prefer to work with payroll. Here are some of the primary benefits of an attendance software package, along with popular providers who specialize in each:
Simplicity of scheduling - Set up schedules to make sure that a department or project is fully-staffed at the appropriate times. Leading suppliers include: Acrotime (fee charged per day/employee and provided by quote).


Calculating payroll - Attendance software packages help the HR staff calculate your weekly, monthly or semi-monthly payroll. Leading suppliers include: TSheets ($5 per user, per month + $20 base/month).


Labor analytics / payroll reports - Based on the attendance information gathered by the software, you can generate payroll reports for the whole company or just a single department. Leading suppliers include: NOVAtime ($250 to $800 per time clock, software estimate by quote).


Daily attendance - Based on vacation requests entered into the attendance management software, it's possible to create a list of employees who are out of the office on a certain day. Leading suppliers include: InfoTronics (contact for quote) and TSheets ($5 per user, per month + $20 base/month).


Mobile / browser-based / software as a service (Saas) - Manage your payroll and track employee or project hours from anywhere in the world with a tablet device or a laptop and Internet access. With no updates to software or hardware required, these services end up being highly cost-effective for businesses on the go, as well as those without large internal IT infrastructures. Leading suppliers include: InfoTronics (service estimate by quote), Acrotime (fee charged per day/employee and provided by quote), TSheets ($5 per user, per month + $20 base/month).
It's worth noting that, without exception, the final cost will be impacted by the number of employees you manage through the system. In many cases, this will also determine your eligibility for SaaS solutions or client-server installations.
All of these features add up to big time savings and reduced costs. Get your business started with customized time and attendance software price quotes. You'll be connected to multiple providers who can meet your company's needs.
Ready to Compare Time and Attendance Systems Price Quotes?