How to Choose Time Tracking Software
Time tracking software offers a number of benefits to small business owners, as well as managers of larger corporations. It is an effective tool to help keep budgets in line and projects on track. With so many options on the market, choosing the right package can seem like a daunting task.
Before looking for a software package, take some time to assess your needs to determine what types of problems you want your software to solve.
Do you need a physically based system only, or will there be times when employees will need to log in and out while on the road?
Are you interested in a system that allows employees to request time off?
Do you want a package that can track employee expenses, as well as time and attendance?
What types of reports can the software generate, and how easily can the data be exported to your payroll department for processing?
Timesheet software
Timesheet software is a way to keep track of time and hourly charges electronically. The best options on the market can be implemented into your small or medium sized business with no extensive training required. Some packages are even equipped with a built-in stopwatch that can keep track of time spent on a project to the minute. They offer a precise way to stay on top of the number of hours spent on a particular project and can be used to generate detailed reports for billing and payroll purposes.
A good timesheet software package has a setup that is easy to use and includes the following basic details:
Date of event
Client name
Project or file name
Task
Number of hours
Additional notes
Some software providers even offer their customers the option of filling out the timesheets remotely with an iPhone or Android device. This makes capturing time while working from home or on the road a very simple process.
Depending on the type of business you run, you may want to bill your projects by the hour, by the job, or by the project. When considering your options for a software package that will keep track of hours for you, look for one with the flexibility to offer all of these options.
Not all hours spent at the office are billable. The software should be able to clearly indicate hours that are in the non-billable category and those that should be included on an invoice.
One of the important features of timesheet software is the ability to generate reports. For billing purposes, you will be able to tell at a glance how many hours each member of your team spent on a particular project on a particular date. The reports also make preparing your payroll a much faster and easier process for hourly employees and contractors.
Web-based time tracking software
Web-based software is a good option because you'll have flexibility to run the software from any computer. Here are a few other benefits of a web-based system:
Reduce errors. Digitized time reports allow you to catch mistakes every week. Once you establish the work schedules of your core employees with online time sheet software, it becomes easier to catch errors that would waste money.
Manage expenses. If you need to keep track of your expenditures on a daily basis, simply run your labor reports and find out how much you owe your employees. This feature allows you to match revenue against expenses and helps you run a very tight ship.
Organize schedules. Some businesses have employees who work different hours every week. Customized time sheets can help a business avoid overpaying workers who work 30 hours one week, then 20 hours the next.
Direct payments. The software works with online pay stubs and direct deposit programs. Once you let the software handle your timekeeping concerns, you can use it to set up digital paychecks delivered via direct deposit. That makes your system entirely waste-free and saves you money on paper checks, not to mention delivery costs associated with old-fashioned payroll.
You should be given the choice of having the software installed at your location or running on the software company's site. In the latter case, you would rent it in a software-as-a-service (SaaS) arrangement.
SaaS arrangement
If you choose SaaS, the advantage to you is the ability to get easier access to upgrades. Server protection is another advantage to choosing the SaaS model. If your local installation were to fail, the vendor could get your software up and running on its site right away. You will not be caught in a situation where you are left scrambling and trying to deal with downtime and lost data.
Questions to Ask a Software Vendor
Does the software provide a time sheet, or does it also allow for expense tracking, client billing, and other functions?
Do I need to pay extra for any of these features?
Where is your SaaS site hosted?
What kind of security measures are in place at the hosting site?
How much does server protection cost?
Making a Decision
To get the most efficient system in place for your business, analyze the elements that separate the elite packages from the mediocre options. Here are a few points worth reviewing.
Tracking features
There are countless features to consider when shopping for time and attendance software, but only the advanced options will justify investment in a package. The best programs differentiate between the following: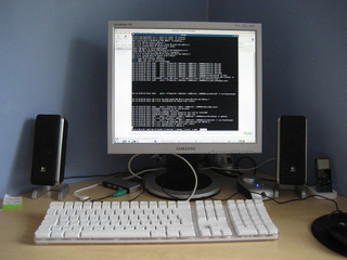 Salary and hourly employees
Calculate sick leave and holiday accrual
Process holiday payroll
Monitor bereavement days
Organize flexible pay periods
After the features that monitor employee attendance, report processing tops the list. Clear reports make HR functions far easier for you.
Managing employee benefits
Read time and attendance software reviews to see how packages integrate benefit information. When paid holidays aren't processed automatically, employees will resent the process of requesting compensation they've already earned. Use software that rewards staff for their hard work without forcing them to get involved.
Can the software accommodate payroll functions?
What good is a time and attendance package if it can't export to process payroll functions? Small business owners should comb reviews to find out if the choice you're considering makes the payroll process easier. You can cut out a step in HR department functions by establishing this link between time and attendance and payroll.
User-friendly rating
Software packages are only useful if you and your staff can operate them without issue. Examine the user-friendly quotient before buying, so you don't tie yourself up later with unnecessary support concerns. Though the best providers deliver quality support, avoiding using that support should be your primary objective.
Customer support
Buying time and attendance software might be a major step for your company, but implementation is another issue. Consider customer service one of the most important functions in the shopping process.
Making a decision about time tracking software is not something you should take lightly. The right package can gather data for other purposes, such as project management and estimation. Getting some input from your marketing or accounts payable team can help you see how tracking employee time can be applied to more than streamlining your payroll system.
Ready to Compare Time and Attendance Systems Price Quotes?