Selecting Online Time Clocks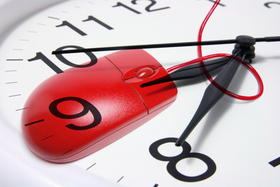 Looking for a reliable way to quickly and accurately track employee time? An online time clock replaces archaic punch card systems by providing a solution that works over the Internet. This system doesn't require any software or set up and allows you to effectively manage employee "time sheets" without dealing with paper documents.
An online time and attendance system provides an array of benefits:
They're very affordable - with no hardware or software expenses, you can support an unlimited number of employees for just a few dollars per user
Since employees only need a computer with an Internet connection to log their time, they can access the system from anywhere
You can use the time data you collect to integrate with your existing payroll and accounting systems
Online time clock types
Generally, you have two options for online time clocks:
Group punching uses a computer located in a central location, similar to a kiosk, which all employees access as they enter and leave the office. Employees log in to the time clock web site, click a button indicating they arrived or left, and then log out. This type of online time clock also has an automatic log-off setting that will securely log users out if they forget to sign off.
Individual punching is also available through an online time clock. Employees go to the provider's web site, enter their username and password, and log their status. This system also uses IP tracking so you know that each employee logged in and out from their work PC and not from home or outside the office.
For employees outside the office such as salespeople or telecommuters, you may need to collect their IP addresses so you know where they logged in from. You can also require their managers to be responsible for entering accurate time for them.
How an online time clock works
Step #1: Once you select an online time clock vendor, either through your own research or by submitting a free quote request through BuyerZone, you use a secure Internet connection to access software hosted on their site.
Step #2: Next, you log in and enter employee data manually, or import the information from another program. Each employee then has to set up an individual username and password for punching in and out of the system.
Step #3: As the administrator, you'll be able to review all details for every employee and manager, make necessary changes, set permissions for other personnel, and import data to other systems. After that's complete, you will be able to easily:
Track hours for specific departments, tasks, or jobs
Manage vacations and holidays
Control overtime
Create and modify timecards
Use tracking and other data to create real-time administrative reports
Integrate the data with other popular payroll platforms
Managers will be able to view their data and their subordinates', but won't be able to make any changes. Employees can review their current and past data but can't view any other employee data or make changes to their time status.
Try before you buy
Before you purchase an online time clock, make sure to test it out. Most vendors will offer free demonstration periods allowing you to try out the functionality of the software for 15 to 30 days. Others provide the full platform but limit your capability to three employees until you purchase the license key.
Make sure it performs the way you need it to, that it's easy to use, and that you understand how all of the features work. Also, compare different feature sets from multiple providers to make sure the dealer you work with can fit your needs.
Note: Online time clocks are an appropriate solution for small businesses with 25 to 50 employees who don't currently have time clocks. It's also an effective first solution if you're using time clocks for the first time. Once you get familiar with how it works, you can migrate to a larger, more functional time and attendance system.
Ready to Compare Time and Attendance Systems Price Quotes?