Time and Attendance Systems Introduction
Time and attendance systems are the 21st century equivalent of the paper time sheet. Automating the process of time-tracking, these systems typically use either an ID badge with a magnetic card-swipe or a personal identification number (PIN) that the employee enters into a wall-mounted time clock, website, or phone. The input triggers the system to record the time of entry or exit and the data is transferred electronically from the clock to the administrating software program on a scheduled or periodic basis for payroll, reporting, and other similar purposes.
Time and attendance systems and, more importantly, their companion software components have been shown to dramatically simplify the tasks associated with tracking work hours and calculating benefits accrued – a process often cited as one of the largest corporate expenditures for modern businesses in terms of management. In doing so, they provide a reduction in labor costs while also ensuring the accuracy of wages and benefits paid. Plus, they provide specific labor-related insight through tailored reports that can make your business operate more efficient.
Whether due to overwhelming paperwork, rapid growth, or new efficiency initiatives, companies are turning to time tracking systems in record numbers. Highly-competitive sellers are responding to this demand with products designed for a variety of technical requirements and niche industries. As a result, time and attendance packages can now help your company automate not only the morning roll call but also your labor forecasting and management activities.
This BuyerZone Time and Attendance Buyer's Guide will help you compare multiple time and attendance software sellers and choose the time and attendance software best suited to your needs.
Once you have a good idea of what you're after, we can help you find the best seller in your area. Simply fill out our free time and attendance systems quote request form and we'll match you with reputable local sellers.
Time Tracking Basics
Time and attendance software, also commonly known as workforce management software, collates data entered by employees through a wide variety of methods, including badge and wall-mounted time clocks, biometric hand-punch and fingerprint time clocks, web clocks, telephony systems, and even registered peripheral devices such as smartphones and electronic tablets.
The broad compatibility of these modern systems allows your company to track employees entering and leaving your physical location as well as any employees working from satellite offices, home, or on the road. According to leading sellers, it's estimated that 99 percent of businesses who invest in a modern time and attendance system will incorporate two or more methods of data collection into a hybrid system, resulting in optimal performance and cost-savings.
Reduce burdens related to accounting and compliance
In addition to saving you hundreds of payroll-processing hours each year, time and attendance software solutions provide a wealth of modern conveniences that streamline scheduling and improve your bottom line. They also eliminate the costly and cumbersome process of paper time sheets while providing a more accurate way to calculate payroll hours, greatly minimizing mistakes commonly made when manually adding up time sheets. Plus, many are compatible with popular office solutions and can export data directly to QuickBooks, ADP, ADPWeb, PayChex, and other popular payroll systems.
Offering a wide variety of reporting functionalities, these solutions are often customizable to your specific business needs and can be used to simplify administration by limiting labor costs with a consistent application of work and pay rules, minimizing compliance risk by enforcing and tracking complex FLSA laws and union rules, and providing a range of other common management tasks.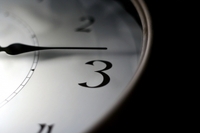 Boost profitability by limiting time theft
In addition to streamlining organizational processes, time and attendance software also provides another huge benefit: it practically eliminates time theft.
Time theft is the practice of over-reporting the amount of time spent on the job. This can be as innocent as employees who round up the time they've been at work or stretch a break to last longer than scheduled. "Buddy punching" is another common occurrence, where one employee will clock in or out for another employee who is not present.
Even 5 to 15 minutes extra per day can add up to a week of pay per year per person – pay that's unearned. Multiply this cost across your organization and you'll quickly see how the practice of over-reporting affects your profitability.
At what point should you buy time and attendance software?
Most companies find they need a time and attendance system when they have about 25 employees they need to track. With basic systems now available for less than $700, even small businesses can find a time tracking system valuable.
Mid-size to large companies with more than 250 employees often turn to more robust time and attendance systems for their labor management needs. Critical decisions such as implementing elaborate scheduling rules, understanding workforce productivity, and forecasting HR needs into new business areas cannot be made without basic labor management analysis. Time and attendance software can help you create a variety of reports profiling your company's human resources, helping you make the right choices for your business.
Is there a situation where a time and attendance system may not be needed?
Not every company needs a time and attendance system. If your staff is primarily salaried, time sheets have been manageable, or you don't need detailed information on how your workforce spends its time, a time tracking system probably won't provide enough benefits to offset the cost.
---
The backbone of any technical process these days is a reliable software platform – or app. Enabling you to keep tabs on employee-related business data in real-time, time and attendance software offers a limitless range of functionalities and customizations.
---
How Time and Attendance Software Works
Time and attendance software is elegant in its simplicity. It collects employee time data and enters the information into a database. The collected data is then reviewed and approved by a manager so it can be used for payroll processing as well as custom and real-time reports.
Entering employee arrival and departure times into the system is remarkably easy. Employees use unique identifiers to log in and out – typically in the form of a magnetic stripe, barcode, or proximity card. Proximity cards allow employees to wave the card by the time entry device instead of actually swiping the card through a reader. Web-based systems as well as portable, phone-based, and mobile solutions are also available and have become quite common. They are often paired with a physical system to help monitor the time of employees working from multiple locations or on the road, thereby complementing the traditional methods of collecting time data.
For security purposes and to avoid buddy punching, some sellers offer biometric or RFID (radio frequency identification) input devices that check fingerprints or hand prints to ensure that the correct person is logging in and out. Iris scanners are also available but not widely deployed due to privacy concerns.
Most companies rely on administrative staff to enter attendance information for salaried workers. However a growing number of companies let employees enter their own information directly into the time and attendance system, empowering employees while reducing the workload (and related cost) for payroll or HR employees. Commonly referred to as "employee self-service" timekeeping, it often includes flex-time hours, vacation time, and sick day information.
In addition to that, most quality software platforms can be programmed to handle just about everything else, including:
Break additions
Lunch deductions
Overtime
Punch alerts
Punch rounding
Multiple time zones
Distribution of weekly timecards to employees (via email)
Time Card Software Features
Basic features
As you compare offerings, make sure to focus on evaluating the features that you intend to use most often. For example, if you intend to use employee data with other applications, you'll need to spend more time reviewing the built-in reporting and data export functionality. Try not to get sidetracked into spending time evaluating features that are less relevant to your plans.
And keep in mind, many sellers can customize the software to your specific industry and related requirements. Popular customizations include optimization for: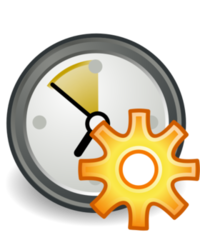 Banks and credit unions
Government facilities and programs
Healthcare
Manufacturing
Mobile and telecommuting employees
NGOs and non-profit organizations
Retail
Staffing agencies
Time-exempt employees
For smaller companies
If you own a small business, odds are you or some of your employees may routinely spend time on the road or work from a variety of locations. There are certain time and attendance systems that have been created to keep up with that unique pace. Often using the latest cost-saving mobile equipment, ranging from smartphones to web-based time clocks, many of these systems take advantage of cloud computing, aggregating employee-hours logged anywhere in the world into a single platform that can be accessed and managed from any web-enabled device with no wiring or networking required.
Offering the same functionalities as a fixed-location system, these time management programs provide routine time tracking of employee log-in/log-out times and also offer schedule management, which allows supervisors to create and maintain a schedule for each employee. In addition, supervisors can set rules for scheduling staffers, including lunch and break times, holidays, and whether overtime is allowed. With most systems, you can also track tardiness and patterns of absenteeism as well as monitor in real-time who is on site.
BUYING TIP: Understanding which basic accounting, auditing, and reporting tools are included is critical. Make sure the solution you select delivers easy access to employee data and the tools to audit it for accuracy. The ability to generate calculations retroactively is a particularly useful feature, especially for correcting error and calculating changes in salary or benefits.
For larger companies
More complex labor management systems designed for larger companies feature additional functionality and more robust reporting. The ability to manage labor data according to an employee's job description, project, or location is common in these systems. Some even track production for employees paid per unit manufactured. This type of job-costing is invaluable when you need to evaluate an individual employees' productivity or forecast workforce needs.
As mentioned above, many software sellers make products geared for a specific industry, such as finance, hospitality, entertainment, or education. This customization is especially useful for mid-size to large businesses. Each individual industry has established work routines and specific information requirements. In doing so, they've defined specific scheduling and reporting needs. When taken into account, this information can serve as the basis for a range of cost-effective measures that can save you thousands or even hundreds of thousands of dollars depending on the size of your organization.
But don't get roped into a purchase merely because the name on the box matches your industry. A seller should demonstrate why you need the added functionalities and justify any costs behind them – ideally stacking any added expenses against the money these enhancements save you.
Remember to focus on the key features you want when evaluating systems. The clearer you can be in sharing your expectations, the faster a seller can prove to you whether they can meet them. Sitting down with your staff ahead of time and creating an operational needs and goals statement is an excellent way to arm yourself against an enthusiastic sales pitch.
BUYING TIP: Keep in mind that, for mid-size to large businesses, the amount of storage space on a data collection device is often an important consideration for purchase as it can directly affect the type and quantity of time clocks you choose. These factors will directly impact the overall cost of the system.
---
When integrating a time and attendance system into your business operation, incompatibility can be a problem. But it can be avoided.
---
Time Tracking Software Compatibility
One of the most common (and expensive) mistakes you can make when purchasing a time and attendance system is failing to ensure your current infrastructure is compatible with a new time tracking system. You can quickly weed out any platform that doesn't work with your current operating system, databases, and enterprise applications (like popular resource planning systems from PeopleSoft or SAP). But a superficial analysis of the system's requirements isn't enough.
Any seller under serious consideration should be able to demonstrate their compatibility with your company's overall environment. In particular, pay attention to these three key considerations:
The platform should be compatible with the data input devices you want to use, your current IT applications, your HR policies, and your payroll service seller.
If you plan to set rules in your time tracking system, go through your company handbook and see if the seller can accommodate your time and attendance-related rules.
Ask about compatibility with your payroll service to ensure seamless integration.
Industry configurations
Most sellers offer systems that are compatible with typical industry configurations. Additionally, most software sellers support the standard interfaces for data entry systems and payroll services, and are flexible enough to accommodate common business rules.
Another thing to keep in mind is that encrypted file transmission and other basic software security measures have now become standard within most quality platforms.
BUYING TIP: Make sure the seller you're considering can prove their system is secure from tampering both from internal and external parties.
Proven products vs. next generation
Do not purchase a product based on the "upcoming" or "next-generational" pitches from a seller. Yes, understanding a seller's future plans can be an important factor in your investment decision, but to use a familiar analogy: remember you're purchasing a car to drive today, not tomorrow.
If the time and attendance system doesn't fully integrate with your systems today, a seller should offer a clear and workable plan for creating an operational system that addresses any conflicts you face, along with a timetable for implementation.
Web-hosted time and attendance systems
Cloud-based time and attendance systems offer a wide range of cost-saving benefits. Eliminating the need for specialized hardware, software licenses, and IT support, any employee with access to the web and a standard web browser can log in and out to record work hours, track benefits and even request days off. Management is also greatly simplified, enabling you or your payroll employees to manage all your time and attendance functions through a secure webpage.
These solutions are an all-in-one package, provided on a monthly subscription basis with rates that are typically built around the number of active employees. Popular for their ability to eliminate both upfront and ongoing maintenance costs while ensuring compatibility with your existing business processes, web-hosted time and attendance platforms are easily customizable to sync up with the needs of your business or industry. Best of all, they're ready to go the minute you log in, making them a popular solution among small businesses. In fact, leading providers report that 20 percent of businesses are now relying primarily on cloud-based platforms – a statistic that's expected to climb significantly in the coming years.
---
A professional time and attendance seller can set you up with a system that handles all of your business needs and even has the potential to save you some of the cost of the system itself by reducing the time it takes for payroll and employee-tracking.
---
Choosing Time and Attendance Sellers
Time and attendance systems are available directly from sellers or through resellers. Sellers will typically handle large accounts themselves and pass smaller companies to local value-added resellers (VARs) who handle sales, installation, and training.
Selecting a seller
Start the purchase process by investigating multiple manufacturers. Make sure the companies have the resources to support and continue building their business, ensuring they'll be around to support your needs post-purchase. More importantly, the company should be committed to sustaining the product line you are purchasing.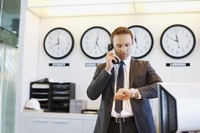 At this stage, learn as much as you can about the company's reputation and financial stability.
Selecting a VAR
When you're comfortable with a particular company, focus on choosing a reseller with relevant expertise. Some will specialize in time and attendance software or human resource-related systems, while others will take a more "jack of all trades" approach. Neither method is necessarily better than the other. But it's always a good idea to work with a company that has extensive experience in the application you want installed.
When considering VARs:
Find out how pivotal the product is to their overall business. Ask how long they've carried the product you're interested in and how much of their business it represents. This can help you gauge their commitment to the package you're considering.


Have a backup plan for product support. To guarantee service in the event your VAR drops the line, you may want to see how many resellers there are in your local area that also support that particular product. If you can't find any, that should be a red flag.


Question the quality of the system. Asking the VAR for their opinion on how responsive the system manufacturer is to issues can also be helpful when choosing a system.


Get references. Quality dealers will be more than happy to provide a list of their happiest customers. While not every reference may be applicable to your industry, a VAR should be able to provide at least one within your niche. When checking references, inquire about all phases of implementation including installation, training, and support.
---
We've compiled price figures below from a range of BuyerZone customers and sellers located throughout the United States. Review the information carefully to make sure you don't overpay.
---
Time and Attendance Pricing
Like all enterprise software, time and attendance software and data collection devices are sold in various types and configurations. Typically, pricing is based on four variables:
The server, or program engine, is priced according to its functionality
Specialized features such as a "healthcare" module may be extra
The number of employees who will use the system also affects pricing, with differing costs for administrators and employees
The quantity and type of data collection devices
Web-based time and attendance systems typically have monthly fees instead of an upfront server license but also price their systems by the number of employees.
No matter the setup, make sure the seller itemizes what they're charging you for in relation to the specific technologies included in the package, rather than just paying the full price for a closed box system.
Time clocks
Many sellers will package data collection devices with their companion software while others will allow you to pick and choose between compatible options. This freedom is one of the benefits of selecting a provider that offers more than just their own propriety solution.
In general, expect to pay anywhere from $350 to $1,000 for a computerized time clock, $100 to $680 for an electronic time clock (with a vast number falling in the $200 to $300 range), and $150 to $350 for the old-fashioned mechanical time clocks. Depending on the number of users, this breaks down to between $4 to $40 per user for a small business (25 employees) and 40 cents to $4 per user for larger companies (250+ employees).
Biometric systems that log time punches based on finger or palm print are by far the costliest solutions currently available, starting around $800 per unit and quickly rising to $3,200 and up. These models are often configured into security monitoring systems and break down to $3 to $13 per user for large organizations (250+ users).
BUYING TIP: Many sellers may provide demo or refurbished models at a reduced rate. Often including the same guarantee as a new model, this enables smaller businesses or companies needing only one physical unit to install the latest technology without paying top dollar.
Software
Popular for their ability to aggregate the data collected by physical time clocks, mobile inputs, web-based time clocks, and similar data collection devices, time and attendance software rises in cost based on the number of users it supports as well as customizations. In general, software that supports 50 employees will run in the $100 to $320 range.
Software that supports larger organizations with 250 employees or more is in the $1,200 range and climbs up from there based on customizations for line of business and industry. Expect to pay anywhere from $400 to $3,000 for these enhancements that also typically add 1 to 2 weeks onto delivery for programming.
Post-sale support
Most quality sellers will provide a system of post-sale support, offering on-site repair and replacement, software configuration and trouble-shooting, implementation and training, as well as a host of other services to get your system up and running and fix problems when they arise. Some providers offer a set period of free support service with purchase (30 days for example) and charge added fees to extend the support thereafter on a pay-as-you-go or contract basis.
Though fees range dramatically by provider and also fluctuate depending on the level of service provided – often based on hours – expect to pay at least $10 per month for service on a basic system and substantially more for larger, more complex workforce management products.
To get an idea what you should expect to pay, take a look at some actual prices paid by BuyerZone users.
Buying tips for time and attendance systems
Installation planning. Agree in advance on a plan for installation that specifies the duration of the job, and is clear about what in-house technology and staffing resources your company is expected to provide.
Documentation. Make sure the company supplies manuals and user documentation for the entire system.
Take training seriously. Ensure adequate training is provided to your staff. Upfront instruction for users of the more advanced reporting tools dramatically reduces ongoing support costs and can be an important motivator for staff to adopt these new productivity tools.
VoIP time tracking. Some time tracking sellers now offer time tracking systems that work with VoIP phone systems where employees can log in and out via their phone handset.
Further calculation. To simplify data handling and optimize productivity, you may wish to ensure that data output from your system is readily available in Excel/HTML/ASCII (text) formats and integrates with QuickBooks or a payroll service.
Ready to Compare Time and Attendance Systems Price Quotes?