Compressed Air Practically Anywhere with Kaeser Air Compressors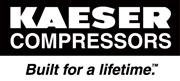 Getting their start in 1919 as a company that manufactured specialty engine parts and machinery for the glass industry, Kaeser has since grown to a company with over 4,800 employees in offices around the world. Their product line now includes large electric rotary screw compressors, with an output ranging from 3 hp to 700 hp, and more than 10 unique portable compressors from 50 to 1200 cfm.
These systems include:
Kaeser Air Compressor Product Offering
Type
Horsepower
CFM
PSIG
Minimum Sound Level (Decibels)
Portable / Stationary
Estimated Costs
Rotary Screw Air Compressor (with V-Belt)
3 - 30 hp
8.8 - 143 cfm
80 - 217 psig
61 db(A)
Stationary
$4,000 - $21,000
Rotary Screw Air Compressor (with Direct Drive)
25 - 700 hp
72 - 3069 cfm
80 - 217 psig
61 db(A)
Stationary
$12,000 - $350,000
Portable Compressor
21 - 327 hp
50 - 1200 cfm
100 - 205 psig
76 db(A)
Portable
$7,000 - $150,000
Kaeser products leverage innovations and manufacturing techniques, focusing on performance, simplified maintenance, and energy efficiency. This approach enables them to tailor a wide range of air compressors to a variety of industrial applications, including metal manufacturing, automotive production, chemical processing, plastics, woodworking, and textiles. Kaeser products are also routinely integrated into non-industrial applications that include fabrication shops, commercial laundry and dry cleaning, aviation and marine maintenance and a variety of auto body other automotive repair shops. Their portable compressors are ideal for construction applications including sandblasting, demolition, post driving and a host of field applications.
To complement these product lines, Kaeser also develops and produces:
A complete selection of air treatment equipment
Compressed air piping
Controllers
Receiver tanks
Rotary lobe blowers
Rotary Screw Blowers
Vacuum pumps
Engineered for industrial and non-industrial alike
With nearly a century of product testing and development, Kaeser specializes in customized solutions that are tailored to each intended use. Holding ISO 9001:2008 quality assurance and ISO 14001:2004 environmental systems certifications, their M350 portable compressor won the Gold 2013 King Award (for fluid/pneumatic power). They have also been named as an Energy Efficiency Partner of Xcel Energy.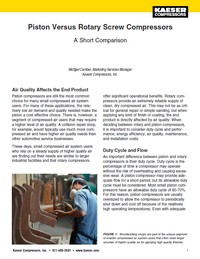 To learn more on reciprocal and piston compressors, read this free whitepaper from Kaeser.
Kaeser's air compressor systems are divided into belt-driven compressors, direct-drive compressors, twin rotary screw compressors, and variable drive speed units. Many models can be upgraded to include an integrated refrigerated dryer for sensitive applications like automotive painting to ensure the highest quality finish.
Popular industrial and non-industrial applications include:
V-belt drive: Woodworking artisans, auto detailing and repair shops, and textile manufacturers can take advantage of these smaller models that are shown to be highly useful in situations where working pressure tends to fluctuate. With models offering standard pressures between 80 to 217 psig, this flexibility makes them cost-effective for smaller operations. Plus, they also incorporate an automatic tensioning device that keeps the belt tight and extends transmission efficiency to ensure reliability, up-time, and the lowest possible maintenance costs.


Direct drive: With anywhere from 25 hp to 700 hp in available power, Kaeser's rotary screw compressors connect to a 460V or 575V 3-phase, 60 Hz motor through a maintenance-free coupling. This design extends the life of the machine and reduces total cost of ownership by eliminating transmission losses that actually boost performance and energy savings simultaneously. The design also uses one of a variety of oversized air-ends to ensure the maximum output for flow and pressure. Each is manufactured to both size and profile, geared to its particular application. This design is something of a specialty to Kaeser and one of the most attractive to an extensive range of industrial manufacturing and processing applications.


Portable compressors: If you've got the transportation, odds are Kaeser has the air compressor. Their line of mobile air compressors features a Sigma Profile air-end that delivers more air with up to 327 hp in output - all while using less fuel. Fully compliant with EPA regulations, portable units also include a cold-start battery for ease and reliability in the wild and a larger fuel tank that provides over 10 hours of run time on a single fill. Depending on your intended use, optional upgrades include: skid mounting, stainless steel canopy, and crash cage.
Ready to Compare Air Compressors Price Quotes?