Stationary Air Compressors Deliver Big Power in Relatively Small Packages
From factory floors to surgical centers, stationary air compressors have been integrated into a wide range of medical and industrial applications. Manufactured by leading brands that include Husky, Northern Tool, Ingersoll Rand, Atlas, and Sullair, they're available in three basic types:
Single stage air compressor: Used primary for low pressure requirements, this type achieves desired pressure through the force of a single piston stroke and a pressure sensitive valve.


Rotary screw air compressor: Achieves pressure through a threaded interaction that traps and compresses air between two interlocking cylinders.


Two stage air compressor: Similar to the process of the other two models, the air is sent toan initial tank then directed to a smaller high pressure piston by an inter cooler where it's compressed again to 175 PSI. From there, it goes to the storage tank.
Common applications and their associated specs include:
Popular Stationary Models
Application
Horsepower
PSI
CFM
Average Dimensions (L-W-H)
Estimated Costs
Medical Facility / Dental Office
5 - 15 hp
175
17 - 50 cfm
20" x 33" x 69"
$2,400 - $7,500
Medical Facility / Laboratory
5 - 40 hp
100 - 210
16 - 212 cfm
76" x 36" x 71"
$4,200 - $27,600
Medical Facility / Dental Office
7.5 - 15 hp
175
24 - 50 cfm
78" x 28" x 55"
$1,900 - $7,600
Automotive Service Facility
20 - 200 hp
75 - 150
14.3 - 998
112" x 58" x 80"
$16,500 - $24,300
Industrial / Manufacturing Facility
250 - 500 hp
109 - 125
1466 - 2444
160" x 82" x 95"
$24,000 - $90,000
A specific compressor for every application
Specific features and construction vary from model to model. But most leading units, like the Stationary Fixed Receiver from Ingersoll Rand, will be manufactured from a durable aluminum construction that features cast iron cylinders and a design that minimizes sound fatigue through quieter operation (62 to 68 dBA is a good benchmark). Typically designed for 100% duty cycle, they provide reliability through a long-life V-belt drive that delivers continuous airflow while providing reductions in maintenance and service requirements.
In addition, and especially important to medical and dental applications, a stationary air compressor will often operate free of vibration transfer. It's worth noting that medically-related applications require a stationary electric air compressor that's NFPA 99 compliant - the QVMS by Quincy is a notable example.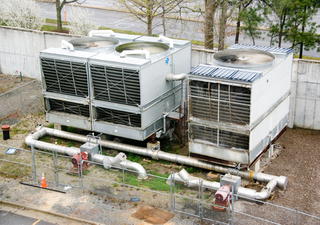 Models geared toward the automotive industry or manufacturing facilities include a refrigerated air dryer that purifies the compressed air by chilling it to condense and remove moisture, dirt, oil and other contaminates that are likely to mar a fresh paint job. Automotive air compressors also enhance their cost-effectiveness through an airend that runs continuously. This design provides ongoing airflow while in use then downshifts to idle pressure during periods of inactivity and powers down completely after a pre-established amount of time (15 minutes is common).
Similar to the V-belt drive construction, this enhancement has been shown to cut maintenance costs and boost up time, while conserving energy or fuel while the unit is not in use. By providing user-defined variable speeds and automated power-saving features, an energy-friendly industrial air compressor has been shown to directly affect its cost of ownership, where energy consumption was reportedly 15% higher and a tool's life cycle was reduced by 20% to 30% when operated outside its guidelines for peak efficiency.
It's worth noting that most air compressors can be expected to have an operational life of at least 15 years. However, like any other piece of machinery, lifespan and quality of performance are directly impacted by its use and maintenance schedule.
Installation tips
A quick installation is never the way to go. Shopping around and planning ahead can save you big down the line. For example, if you foresee the need for additional lines or air-powered tools in the future, run the lines with the first installation. This will simplify the process to the point where little to no extra installation will be required for the upgrades (at least with regard to the air lines).
In terms of the unit itself, allow 2 to 3 feet in addition to the working dimensions of the air compressor (see chart above). This will keep the work area clear and ensure there's ample room for maintenance and any clearances required by NFPA codes.
Ready to Compare Air Compressors Price Quotes?