M5500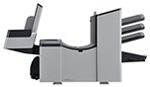 The M5500 Folder Inserter system is the ideal productivity tool for any office or mailroom environment thanks to its unique low level noise and compact footprint. It draws its strengths from the successes of its predecessor the M5000 with several enhancements providing additional value in key areas. Highlights are...
More Hasler Letter Folding Machines
Greater Productivity
Increased processing speed
High capacity document feeder holding up to 725 sheets of 20 lb. paper
High capacity vertical stacker holding up to 500 envelopes
Greater Mailing Application Flexibility and Support
Increased folding capacity
Support for barcode reading in personalizing transactional and marketing mail
Enhanced Ease of Use
New graphical color touch sScreen designed for novice users
Semi-automatic envelope separation setup
Sealing liquid level detection
Automated sealing capability
It is productivity made easy.
The M5500 can process a wide variety of mail pieces for direct marketing efforts, campaigns, invoicing, monthly statements and virtually any other application your company can or will do.
Related Products
Hasler also offers a full range of related mail processing products for a complete, integrated end-to-end solution. Whatever your needs, Hasler has the solution from start to finish.
Ready to Compare Letter Folding Machines Price Quotes?