Hasler PS40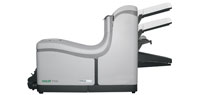 The PS40 handles all of your mail automatically. It saves you time and money while producing professional looking mail documents and best of all, it is also as easy to use as a copier.
The PS40 is equipped with Fill and Start® Just load the documents and envelopes into the PS40, press the Fill and Start® button and the system will program itself to process the job. The result is that your customer receives an automatically collated, professional package.
More Hasler Letter Folding Machines
Process documents up to 5 pages thick
Nine programmable jobs to simplify your mailings
Durable construction
Ensure document integrity and prevent double insertions with secure'n Feed®
flexFeed® trays allow easy insertion of documents and reply envelopes without "fanning"
Ready to Compare Letter Folding Machines Price Quotes?