PS1200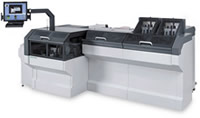 Intelligent High-Performance Inserting System that Streamlines Your Mail Processing
Designed to operate at the highest practical speed and efficiency, Hasler's PS1200 processes up to 12,000 envelopes per hour - streamlining the entire mailing process, from input to throughput to output, even during peak or rush times. The high-capacity sheet feeder and vertical envelope reception stacker enables you to maintain the highest level of operational productivity even for your most demanding mail processing jobs.
More Hasler Letter Folding Machines
Fully configurable system can be expanded with the appropriate modules to meet your new requirements
Automatic job change enables the user to complete a wide variety of applications
Streamline your mail processing with a wide range of document and insert feeders to create precisely the correct configuration to suit the needs of your organization
Easy job configuration by selecting a new job on the large touch screen display, saving you valuable setup time on new and recurring applications
Related Products
Hasler also offers a full range of related mail processing products for a complete, integrated end-to-end solution. Whatever your needs, Hasler has the solution from start to finish.
Ready to Compare Letter Folding Machines Price Quotes?