PS140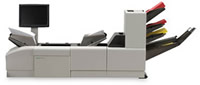 The efficient modular design of the PS140 makes it a highly efficient folder/inserter solution, supporting the widest range of mailing applications and always creating professional, high-quality mail pieces. It adapts to promotional and direct marketing campaigns, invoices, monthly statements and so much more… virtually all of your company's current and future mailing needs. The PS140 can do it all - from multiple documents to glossy or coated paper stock to business reply envelopes and ¼" thick booklets.
More Hasler Letter Folding Machines
The PS140's high-capacity feeding and throughput gives you the practical speed to meet your most challenging high-volume production needs. With the unlimited job storage capacity of its powerful programming and control PC-based user interface, there's no limit to the number of application variations you can recall and switch to. Select any of your pre-programmed jobs and the system automatically calibrates itself and is ready in minutes for another run.
Process up to 4,500 pieces per hour
User-friendly controls guide you step-by-step for quick and simple operation
Ability to add additional feeders (up to 17) allows the PS140 to fully adapt to your growing business needs
PC driven user interface offers extensive application programming and control of all aspects of the machine, as well as greater access to production data and reports
Related Products
Hasler also offers a full range of related mail processing products for a complete, integrated end-to-end solution. Whatever your needs, Hasler has the solution from start to finish.
Ready to Compare Letter Folding Machines Price Quotes?