M8800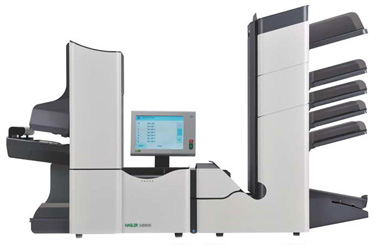 The M8800 Folder Inserter is the ultimate mid-range machine for your inserting needs. Extensive features such as powerFold® and flexFeed® technology combine with a modular design to bring you unmatched levels of productivity and flexibility. The M8800 is easy to use, with a 10.4" super bright color touch screen and swappable feeders for continuous operation.
flexFeed® technology give you the ability to handle any document size or paper type
With powerFold®, you can crisply and silently fold up to 10 pages in single fold and 8 pages in tri-fold
Add optional1D, 2D Barcode and/or Optical Market Reading Solution to ensure each recipient gets their correct documents
More Hasler Letter Folding Machines
Reversible full-color touchscreen for ultimate ease of use
Configurable from two to seven stations and totally upgradeable
High capacity carrier envelope hopper holds 500 envelopes with optional 1000 envelope capacity
High capacity document feeder holds 725 sheets
Versafeeder holds up to 500 BRE envelopes
Feeder linking allows for continuous document feeding of up to 3,125 sheets
Related Products
Hasler also offers a full range of related mail processing products for a complete, integrated end-to-end solution. Whatever your needs, Hasler has the solution from start to finish.
Ready to Compare Letter Folding Machines Price Quotes?