PS1000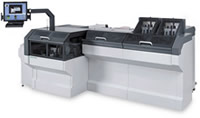 Process your high volume jobs day in and day out with Hasler's powerful PS1000 Folder/Inserter. And with its ability to switch between multiple mailing jobs in no time at all, means you can keep up and running with no interruptions.
More Hasler Letter Folding Machines
Thanks to its insert and folding station, high-speed design, and increased input and output, the PS1000 stands as the perfect solution for your heavy volume productivity requirements. The high-capacity sheet feeder and vertical envelope reception stacker enables you to maintain the highest level of efficiency and productivity - even for your most demanding mail processing jobs.
Process up to 8,300 pieces per hour
Automatic job setup function automatically switches to the processing of new jobs in seconds, saving invaluable setup time on new and repeat orders
The PS1000 insert feeders easily handle documents up to 5/32" thickness, allowing you to process a wide variety of brochures, booklets and other collateral
Modular design allows the PS1000 to fully adapt to your growing business needs
PC driven user interface offers extensive application programming and control of all aspects of the machine, as well as greater access to production data and reports
Related Products
Hasler also offers a full range of related mail processing products for a complete, integrated end-to-end solution. Whatever your needs, Hasler has the solution from start to finish.
Ready to Compare Letter Folding Machines Price Quotes?