Hasler PS200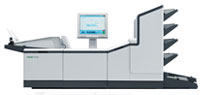 Hasler is proud to introduce the new PS200 Folder Inserter Solution. The PS200 is a powerful solution that has an advanced modular design that is designed to grow with your needs. Hasler engineers took a hard look at mail centers around the world. Then they designed this advanced folding and inserting system that can be customized to meet the workflow requirements of the widest range of mailing applications including flats. You'll find practical innovation everywhere you look:
More Hasler Letter Folding Machines
Powerful and intuitive with an unlimited job memory
Auto-setup eliminates hours of manual adjustments
A unique all-inclusive scanning module reads almost any type of document coding
Landscape insertion offering higher speeds and lower envelope costs
15" touchscreen user interface reaches new heights in user-friendliness
Ready to Compare Letter Folding Machines Price Quotes?