PF-80 Automatic Document Folder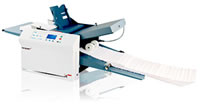 The PF-80 Automatic Document Folder gives you the simplicity and versatility to complete a wide variety of fold jobs in just minutes, whether you're a business, church, school or print shop.
More Neopost Letter Folding Machines Information
Even untrained operators will quickly master the PF-80. Its user-friendly control panel with large 2.8" LCD backlit display lets you load up to 500 sheets in the hopper, select a fold type, press start and walk away. Easy adjustment can be made to process a variety of precision folds including single, letter, z-fold, gate, fold-out, and double parallel.
Productivity
Process quickly at 20,100/hour
Input and Output feed balanced — 500 sheets and 500 finished pieces
Programmable jobs
Automatic fold settings
Flexibility
Process variable page sets such as invoices or statements
Cross folding available for newsletters or large format documents
Wide variety of folds
Process various paper weights
Ease-of-Use
Large LCD Intuitive control panel
Auto Batch to fold in batches with timed delays
Counter for security
Batch counter to stop at pre-set number
STANDARD FEATURES
SPECIFICATIONS
Hopper Capacity
Up to 500 Sheets 20#
Fixed Speed
Up to 20,100 pieces per hour (based on 11" z-fold)
Paper Size
Min
Max
Width
3.5"
12.25"
Length
5"
18"
Monthly Volume
150,000 pieces
Dimensions
Closed: 33"L x 20"W x 19"H
Fully Extended: 60"L x 20"W x 19"H
Weight
67 lbs.
Power Requirements
Voltage 120 (+6-10%)
Frequency 50/60 Hz
Ready to Compare Letter Folding Machines Price Quotes?