How the Right Marketing List Can be a Bullseye for Finding New Customers
We all know that sales revenue derives from customers, the consumers or businesses who buy your products and services. Customers initially enter your sales pipeline as prospects, usually as the result of your marketing activities, or perhaps due to a referral from another satisfied customer.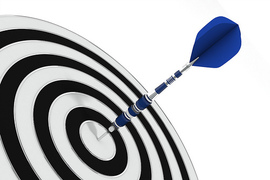 However, before they enter the pipeline, they are simply suspects --the consumers or businesses you want to identify and sell to; they are your target audience.
The marketing lists we'll discuss here are used to identify suspects so you can convert them to prospects and move them through your sales process. These sophisticated lists are compiled by list management companies.
Consumer (B2C) Lists
Those companies create consumer marketing lists using phone directories, tax records, public records, magazine subscription lists, mail order catalog data, and other sources. More than 200 million consumers are carried in national databases, representing well over 90 percent of the American buying population.
These B2C (business to consumer) lists can be segmented by hundreds of characteristics (a.k.a. "selection criteria"), including the following and many others:
Age
Marital status
Estimated household income
Credit worthiness
Household status: households with children, grandparents, veterans, cats, dogs
Ethnicity, religion, gender
Estimated home value, home ownership, dwelling type, type of mortgage and age, interest rate, length of residence, year home was built
Presence of children, seniors, ethnicity
Number of vehicles per household, year of vehicle, if purchased during model year, market value, brand of vehicle
Business (B2B) Lists
Marketing lists for targeting B2B (business to business) customers are as diverse and varied as those for the consumer market. List management companies source these elaborate lists from public records such as phone books, county courthouse and secretary of state data, business magazines and newspapers, annual reports, surveys and more. Most list owners verify their information by phone several times each year.
Business lists carry basic selection criteria listed below and many other data points that allow you to zero in on the businesses most likely to be interested in your products and services.
Business facility: square footage, commercial or residential
Business name
Business size: employee count, sales volume, asset value
Credit rating
Name and title of key executives
Type of business: SIC or NAICS Code
Finding the Best List
With tens of thousands of lists and databases maintained by list owners and management companies across the United States, you will want to work with a qualified list broker. These experts have relationships with list owners and managers. They work with you to understand your business, and can help you find the most effective list(s) for converting suspects to prospects.
List brokers, many of whom are members of the Direct Marketing Association and/or the American Marketing Association, do not charge you; they are paid by the list managers with whom they work. Check back for my next article to learn the important steps involved in renting a list.